Static segments have the ability to detect the contacts that are part of them.
The detection can be based on a series of common activities among the contacts, or even a manual classification done by Connectif's user.
Creation
To create a static segment, go to "Contacts > Segments" and click the button "Create new segment". Then, select "Type: Static".
Aside from the type of segment, there are two other fields:
The first one is for the name of the segment.
The second, description, is optional. It's recommended if you want to add more information about the goal of the segment.
Here's an example: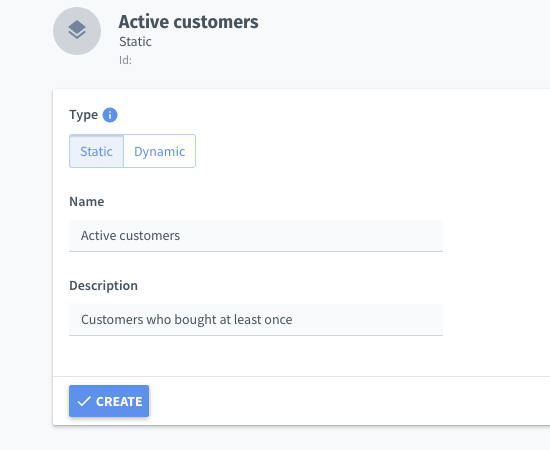 Case of use
For this case of use, we'll create a workflow that showcases how to add a contact to the static segment we just created. For that, we'll establish which activity the contacts must perform to be added.
Since the name of the segment is "Active customers", our workflow will add any contact that makes a purchase to the segment:

For that purpose, we've used the nodes "Start", "On Purchase" and "Add to Segment".
In the second case, we'll introduce the contact manually to the segment. For that, we'll go to the contact's profile, from "Contacts > See all > Actions (Details)". In the bottom of the profile page, we can see the segments that every contact is a part of:

When you click "select a segment", there will be a list with all the static segments. If we choose "Active customers" and then click "Add to Segment", the system will perform that action: