Connectif manages and synchronizes a copy of your whole catalog in a safe, automatic way. The information about product data (price, brand, category, etc.) is moved from your website to Connectif via the HTML tag "cn_product_visited". That tag gets set every time a product URL receives a visit.
Connectif's catalog is mainly used to feed the recommendation algorithm, get details on purchases and carts, and for showing the products and their properties in contents such as popups or emails. The process is divided in two stages:
Synchronization

Verification
Synchronization
During synchronization, the product details are stored in Connectif's catalog every time a contact visits a product. That product's information gets marked as "not verified". In this first stage, the product won't be available for any functionality until the information gets verified in the second step.
Verification
Connectif carries out a verification by communicating directly with your site. At this stage, the site gets a request asking to send back the product details. This happens to make sure the product still exists, so the availability status can be updated too. If the product is valid, it goes into the catalog to be made available for all the process.
There are two ways to verify products from Connectif:
Verify Product Now
You can carry out a verification by clicking the button "Verify Product Now", which can be seen in the product detail page. You can access a detail page by going to "E-commerce > Catalog > Actions (edit)":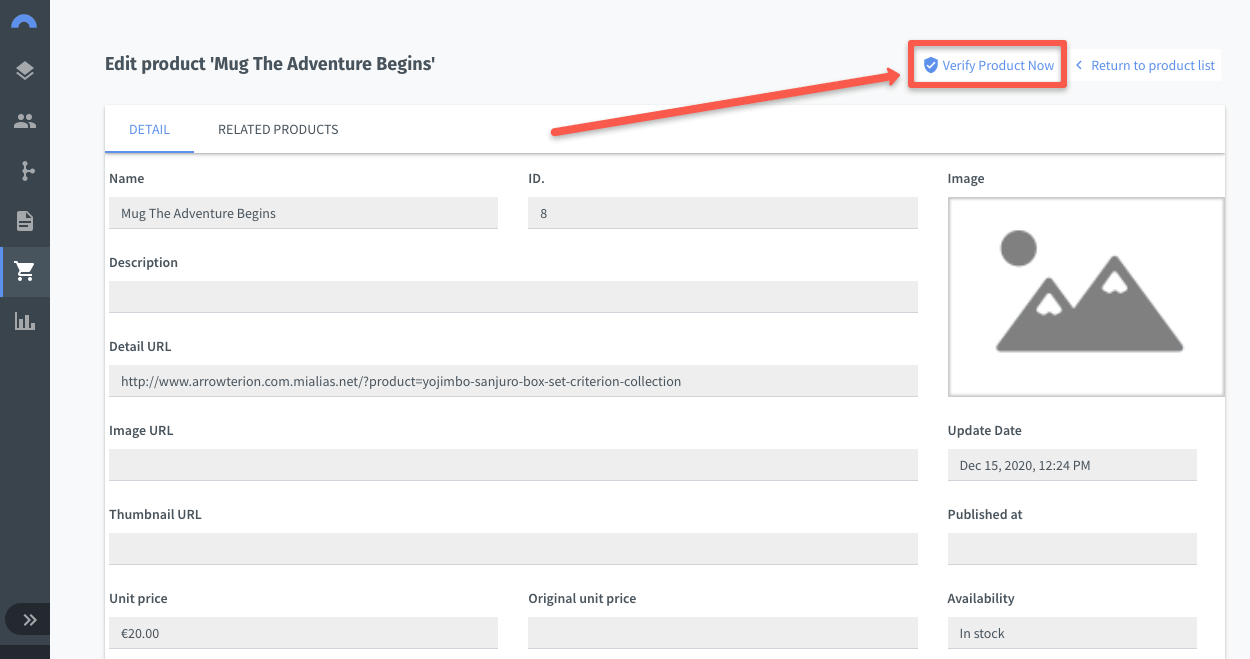 Massive product synchronization
This process updates all the URLs of the catalog in an automatic, massive way. You can activate it at a particular moment or program the synchronization to activate periodically. For that, you click the button "Massive product synchronization" that you can see at the top in "E-commerce > Catalog":

When you click the button, a setting page for the synchronization will appear:
Here, you can set different options:
Activate or deactivate massive synchronization.
Choose the periodicity of the synchronization.
Select starting time.
It's important to keep in mind the size of the catalog. The bigger the size, the longer the synchronization will take to complete. For that reason, it's recommended that the process takes place in the middle of the night. For a catalog consisting of 5.000 products, the synch can last up to two hours.
Products through Connectif HTTP API
Aside from the methods of synchronization and verification showed in this article, it is also possible to import and refresh products via Connectif's API. To create an API key, you can go to "Profile > API Keys > Create new API Key".
To get more information about the commands you can use in this API, go to: https://api-docs.connectif.cloud/connectif-api/reference/products