Introduction
In this article, we'll explain how to install and set up the Connectif module for Magento 2.
Download Magento 2's module
First thing we need to do is download the Magento 2 module from Connectif. We'll just access our Connectif account and go to "Integrations > Magento", and then click on "Download Magento 2 module".
This will start the download of a compressed file that includes the Magento 2 module.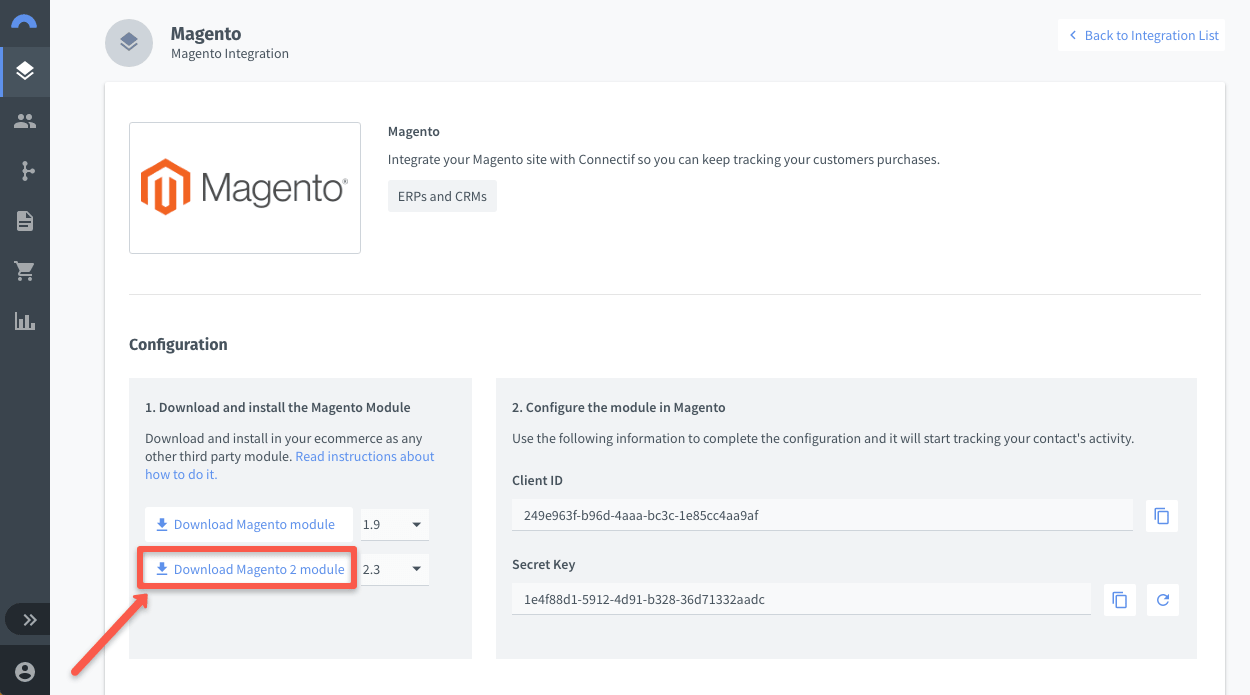 Copy Connectif's folder in the Magento installation
For Magento to detect Connectif's module, it's necessary to copy the "Connectif" folder and all of it's content inside the folder "app/code/", placed at the root of the installation of Magento 2.
Note
In case the folder "app/code/" doesn't exist, we have to create it.
For example, if the installation route to our Magento 2 is "/var/www/html", we must copy the "Connectif" folder in "/var/www/html/app/code/Connectif".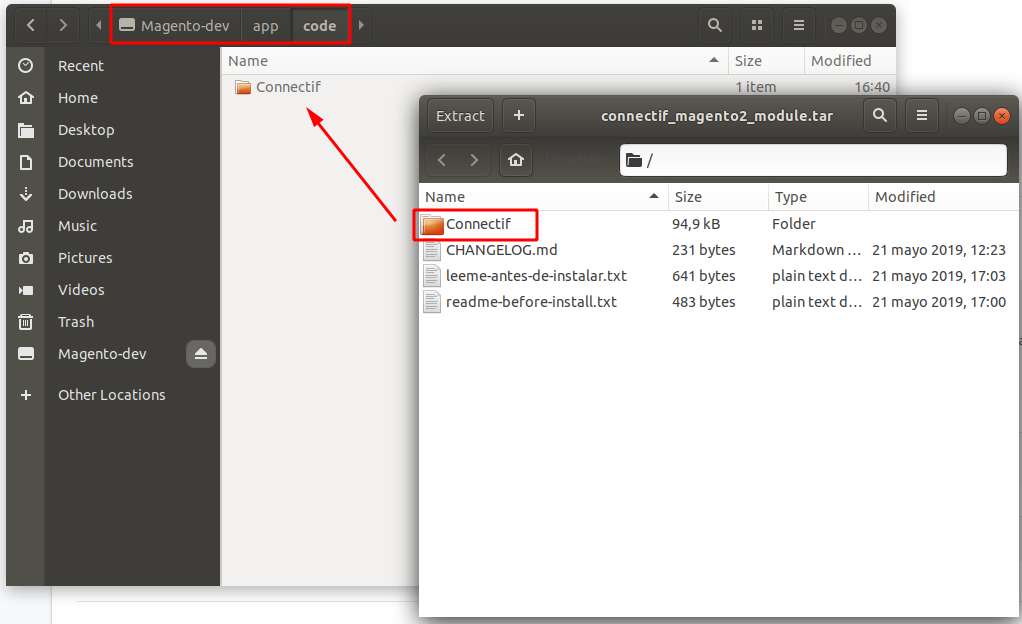 Install module
Access the administration panel of Magento 2 and go to "System > Web Setup Wizard".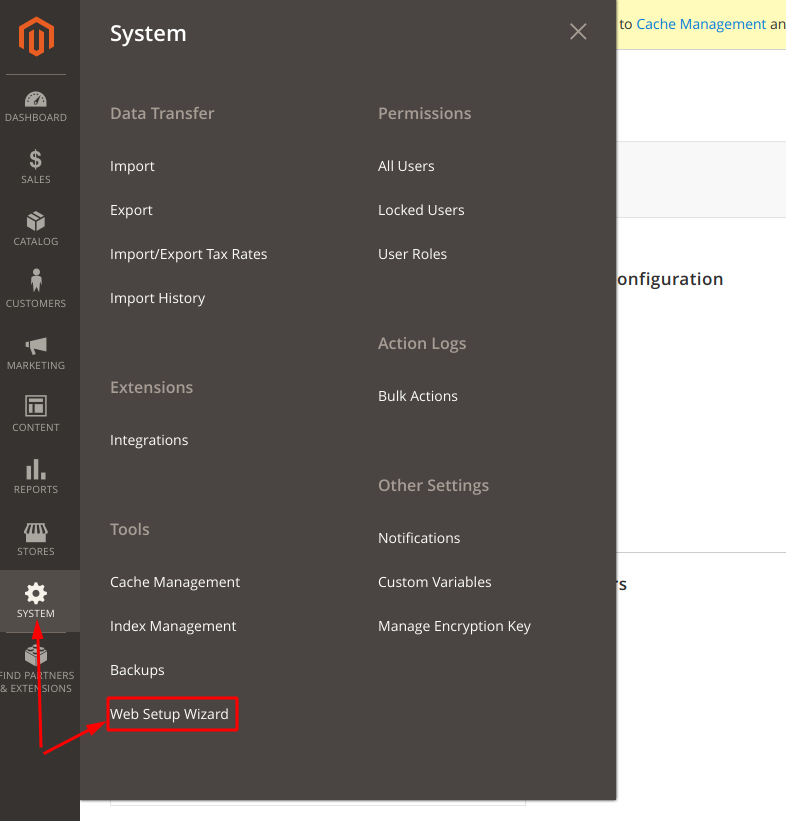 Once there, go to "Module Manager", search for the module Connectif_Integration and select activate.

Next, Magento will perform a series of actions to ensure a secure installation of the Connectif node in three steps.
Readiness Check:

Checks related to the PHP, crons, dependencies and extensions.

Backup.


Makes a security copy of the ecommerce. We can indicate which elements we want the backup to be made of.

Enable module.

Module activation. At this point, if everything is correct, we'll activate the module by clicking on "Enable".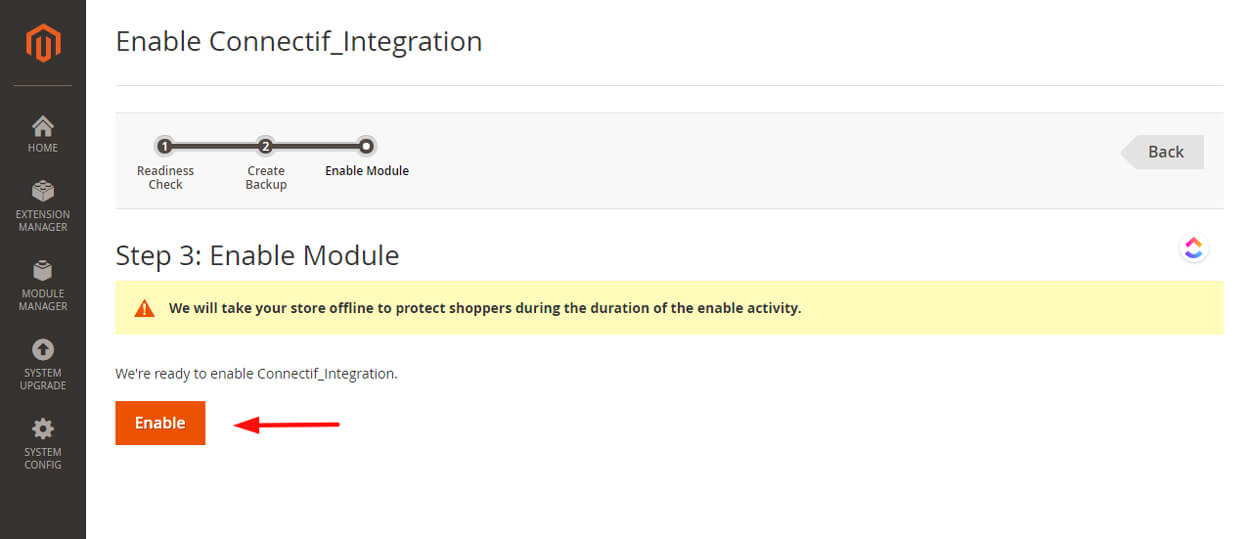 Activate the module
We have the module installed on our shop, now it's time to activate it so it can communicate with our Connectif account.
For that, we'll go to "Stores > Settings > Configuration" and locate the Connectif settings.
In the Basic Configuration section, we'll mark the option Activate as Yes, and we'll see the options for Client ID and Secret Key.

We can find this data in Connectif, in the section "Integrations > Magento". We'll simply copy the "Client ID" from Connectif to paste it on the Magento 2 settings, in the field with the same name. Do the same with "Secret Key" and click "Save Config".
If everything was done correctly, we'll see a message indicating that the activation was a success.