Connectif Copilot is an AI-powered assistant that helps you to generate copy for your digital marketing campaigns. Through your chats with the Copilot – based on ChatGPT – you can create original content and review, translate and optimize it in an agile way.
How to access it
You can access Copilot through the wizard access button, which is located in the Connectif main menu, and you can deploy it from any area of Connectif.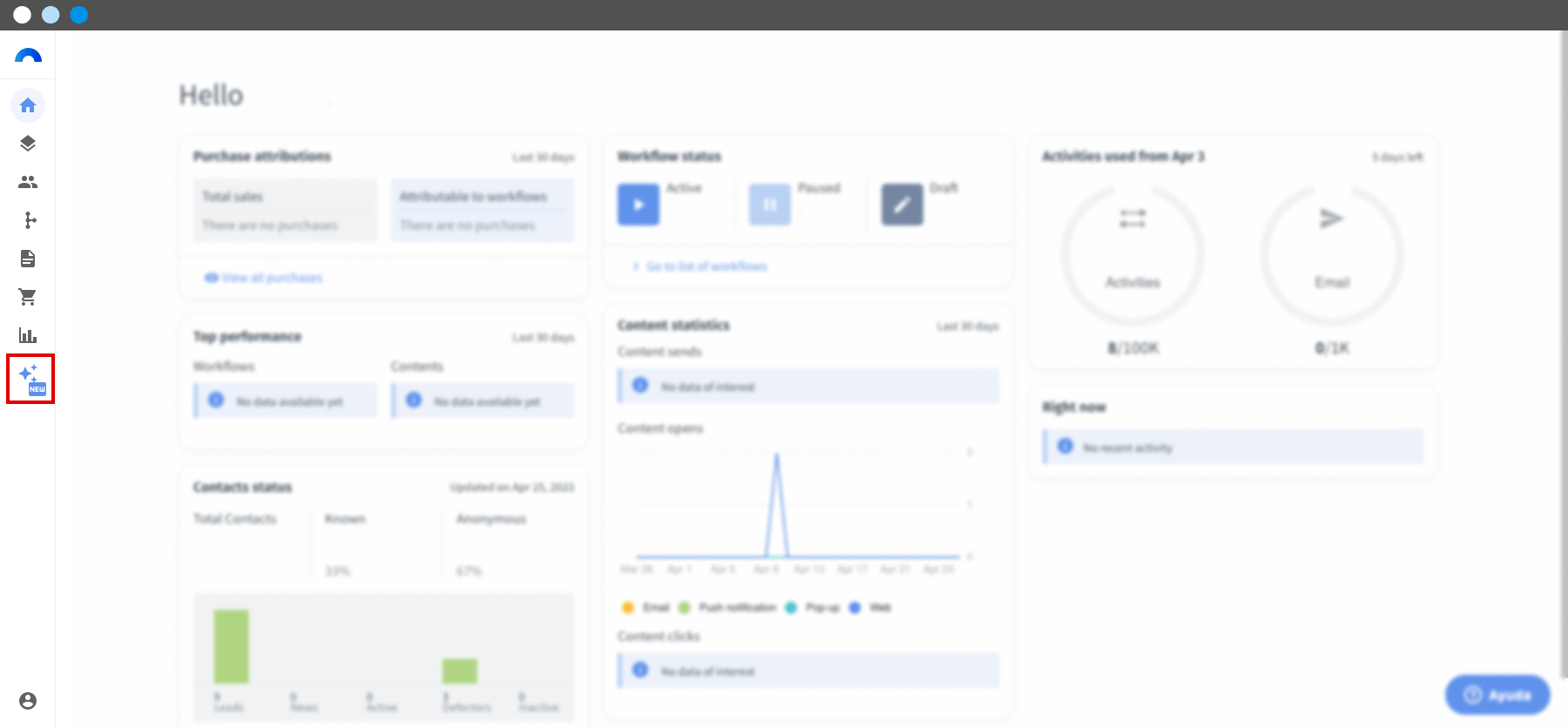 Interface
The Copilot interface is composed of three blocks:
Consumption: to check the number of tokens that have been used and the remaining balance available.
Conversation: to converse with the assistant. When you first open the wizard, several examples are available for you to click on and generate a response.
Requests: to write the requests directly if they are clear, or open the options menu to get help. In this menu there are many examples available of predefined requests that can be used to generate or edit texts.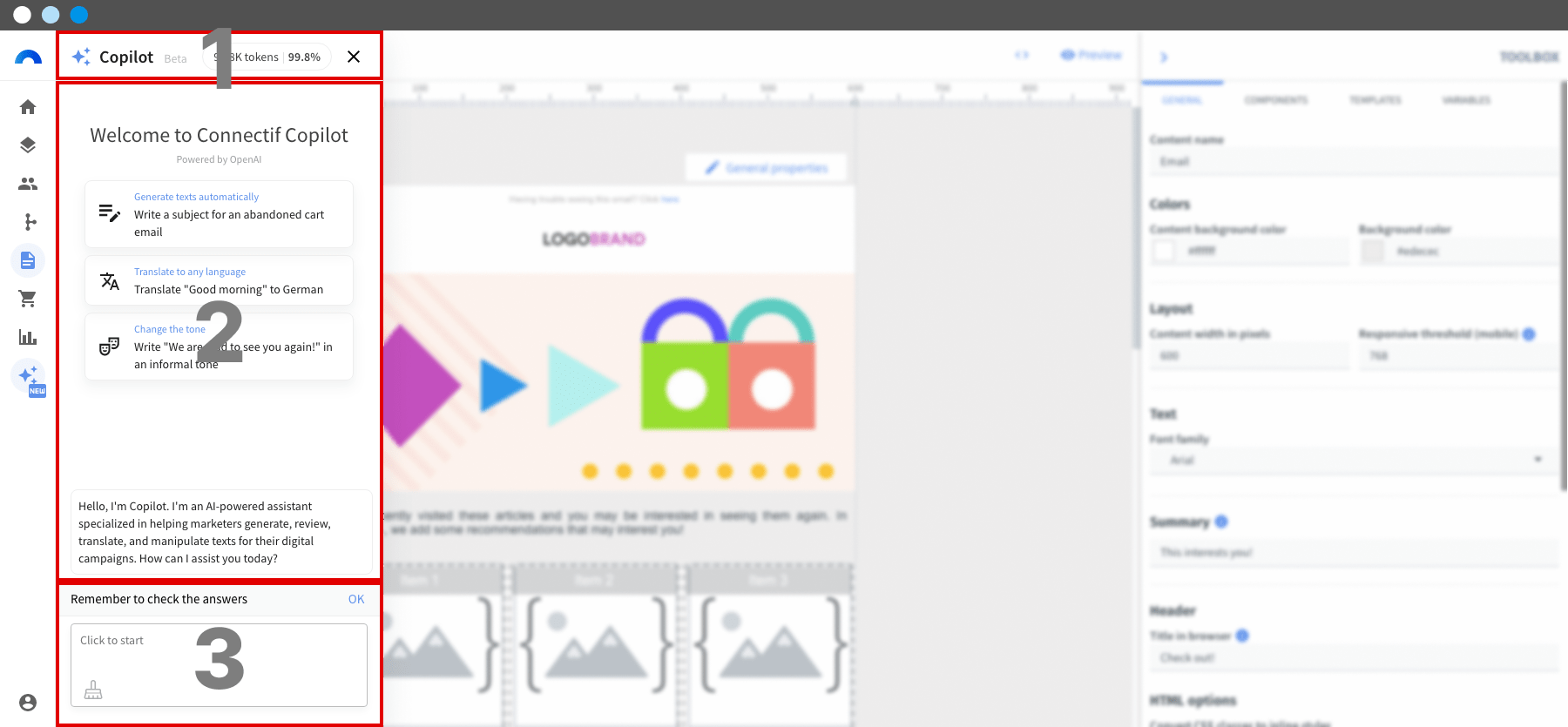 How it works
Copilot is an intelligent and creative assistant whose objective is to guide the content creation process. You can interact with it as if it were a person and ask it to help you write, revise, translate and optimize your texts.
It uses the GPT-3 language model developed by OpenAI, which is capable of generating coherent and natural text from a request.
It works via a token system, i.e. each Connectif account has a limited number of tokens to use each month, and each response from the wizard consumes a certain amount. On the first of each month this number will be reset and all tokens will be available for use again.
1. Generate texts
In the request block (3), enter the requirements for generating the text you need, e.g. "Write a subject line for an abandoned cart email".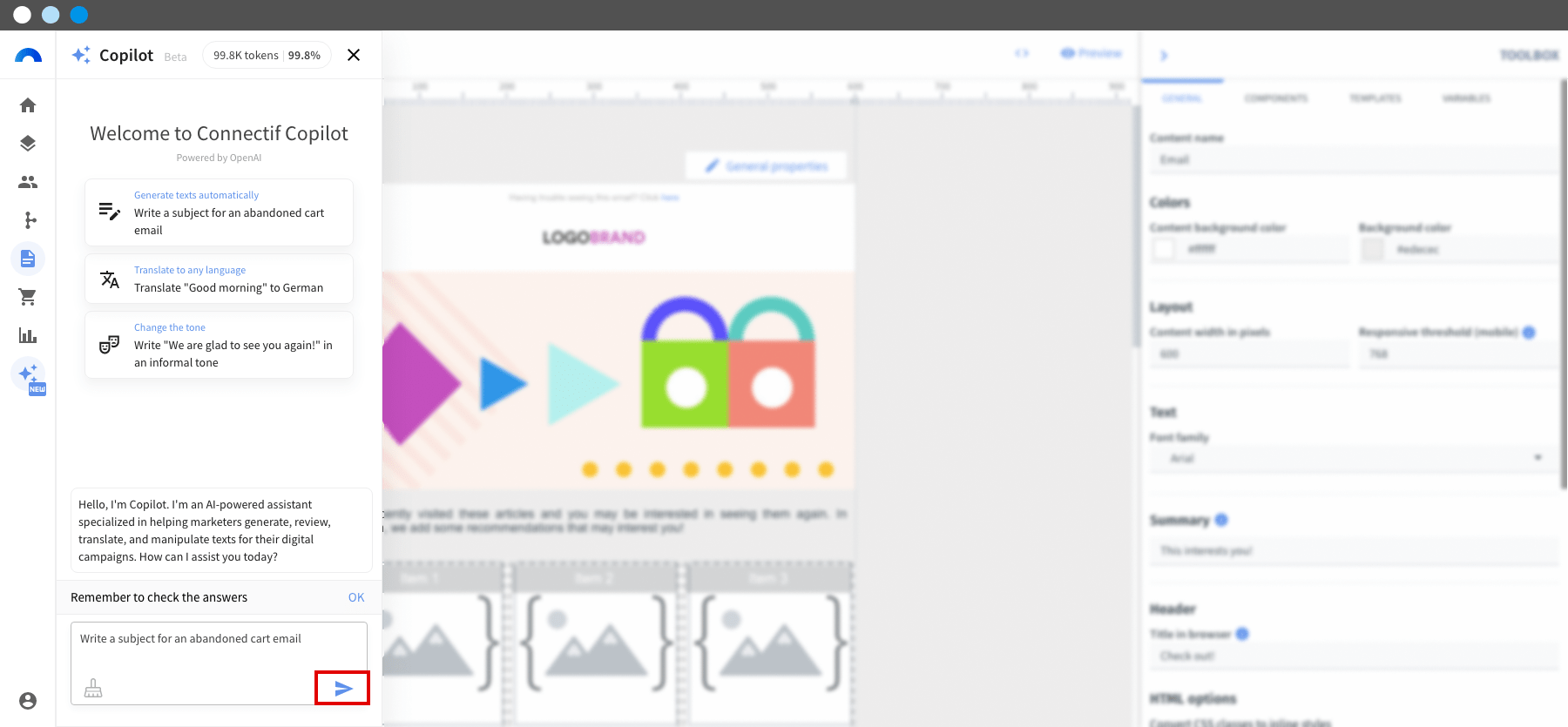 Send the request for a response from Copilot. This will be displayed as a reply in the conversation block (3).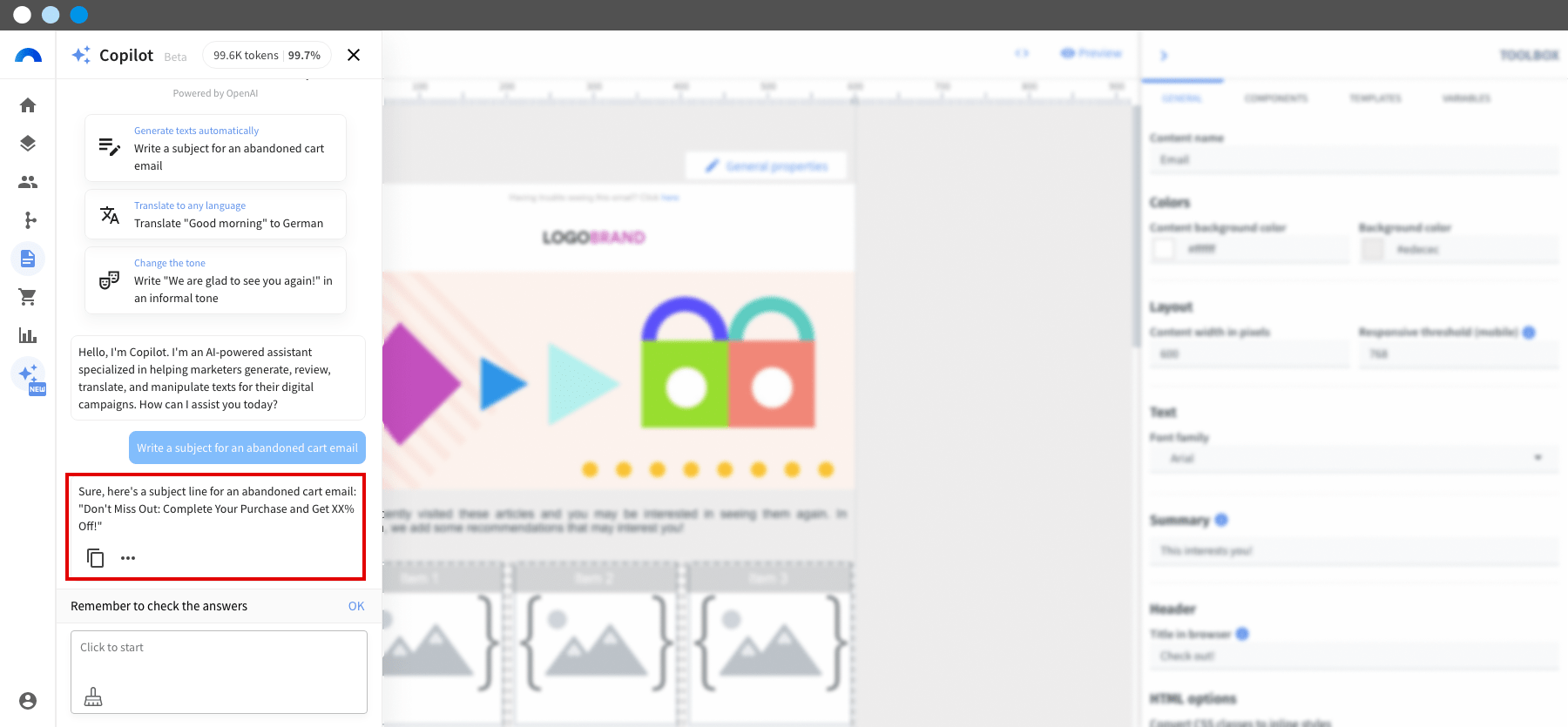 2. Edit texts
Click (Options) on any of the generated texts to ask Copilot to make a text shorter or longer, to check spelling and grammar, to change the tone of the text to a more colloquial or more professional one, or to translate it into another language.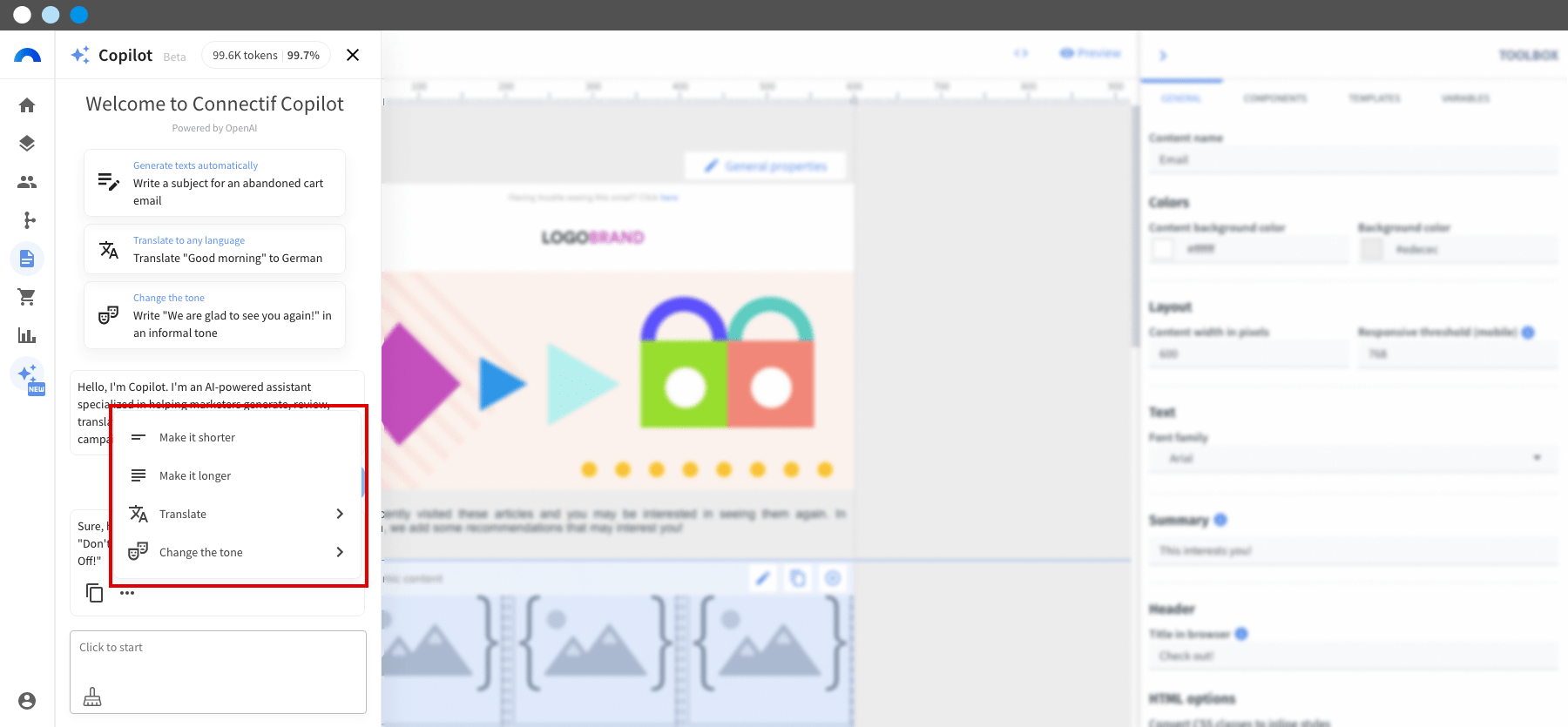 3. Performance limitations
Like all artificial intelligence techniques, the Copilot assistant has a number of limitations to its use:
3.1. Token limitations
Connectif offers you 100,000 tokens to spend each month, which allows Copilot to process requests and give you answers for a total of approximately 72,000 words.
Copilot calculates how many tokens will be used to process your request and generate the response. In the consumption block (1) you can check the number of tokens consumed during the current month as well as the number of tokens you have left to spend.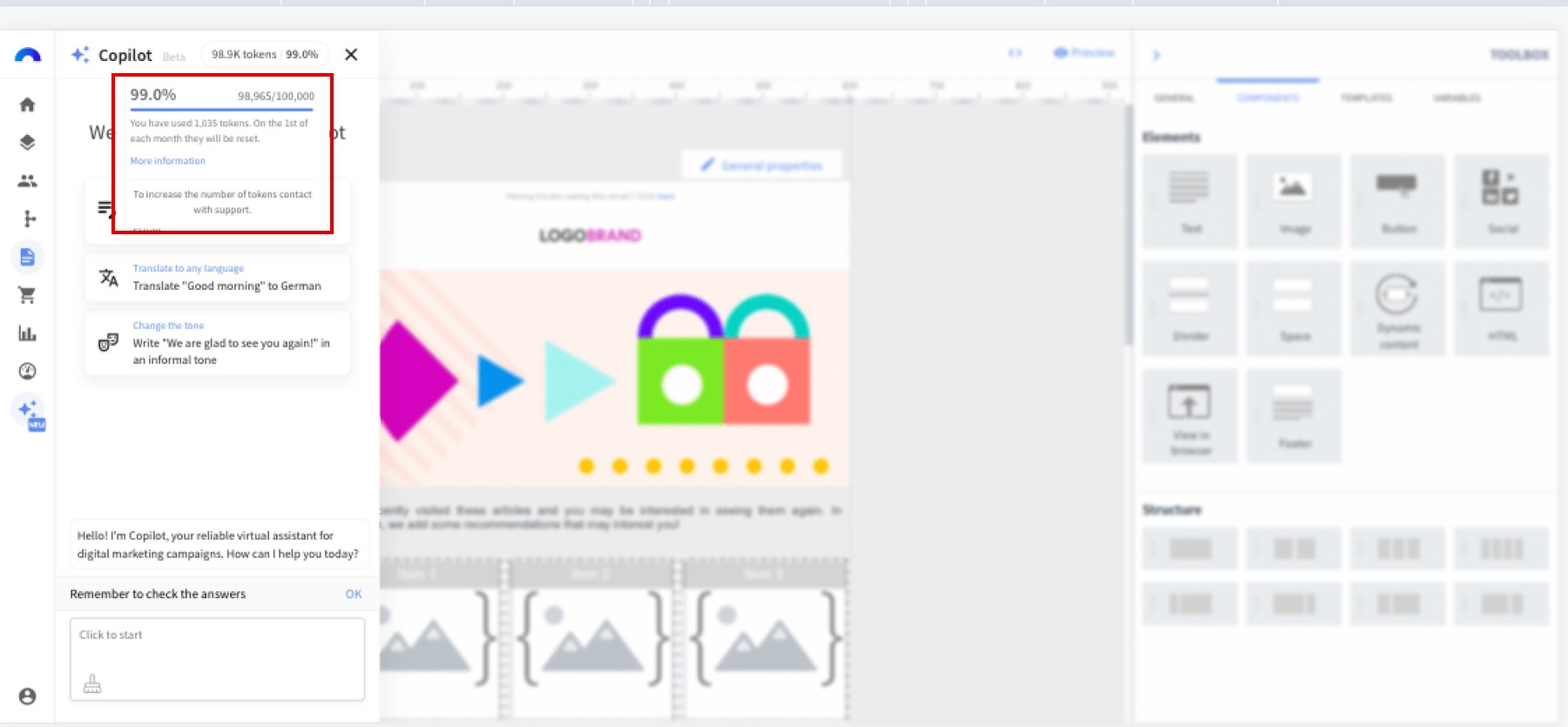 3.2. Model memory limitation
The model is able to remember your conversation over many messages. However, there is a limit after which the model will start to forget the oldest messages you have exchanged with it and focus only on the most recent ones.
3.3. Model limitation
As with any language model, it is possible that the answers offered by this model are incorrect. We recommend that you review the texts generated by Copilot to ensure that the information created is accurate.
Likewise, it is possible that under certain circumstances the model may generate biased or inappropriate content.
Also, the model that Copilot provides does not contain information from the post-2021 world. As a result, you may notice that the model is unaware of some recent events.
---
Keep learning!
To make the most of your Connectif account, we recommend reading these articles next: