Goal and structure of the workflow
It's time to send an email to all of our contacts. Keep in mind that some of them would have given their address, but chose not to receive campaigns. Because of it, we'll make the campaign for those who are also subscribed to the newsletter.
For that, we'll filter those who have an active subscription.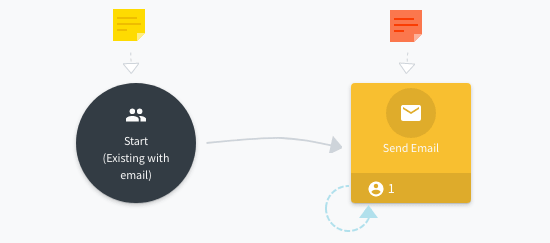 Start: all our existing contacts with email. Since this workflow will only activate once, we'll choose existing. That way, the email will only get to those currently registered in Connectif.
Send email: remember to select the newsletter type! There is information about the email editor in this article.
NOTE: This last node has a "once-per-contact" limitation. It's on by default when you add the node, but we can change or delete it. In both cases, the result will be the same, since when the email is sent, the workflow has served it's purpose and it will end.
Final workflow experience
Once all of that is done, the workflow is ready to be activated. In it, we'll send an email campaign to all our contacts with email that are subscribed to the newsletter. That way, only those interested will get the email, and we'll likely avoid the possibility of ending up in a spam folder, which will make our opening and click rate go up. Let's go!