Goal and structure of the workflow
At this moment, we'll set up an email that will be sent every week to our subscribed contacts, which will include custom recommendations. Since this will be a constant and commercial campaign, it will be a newsletter campaign.
This will be the structure of the workflow:

Start: all contacts with email, all existing and new.
Every Wednesday: it's a "Schedule" node. We'll indicate that it has to activate every week, same day, same hour: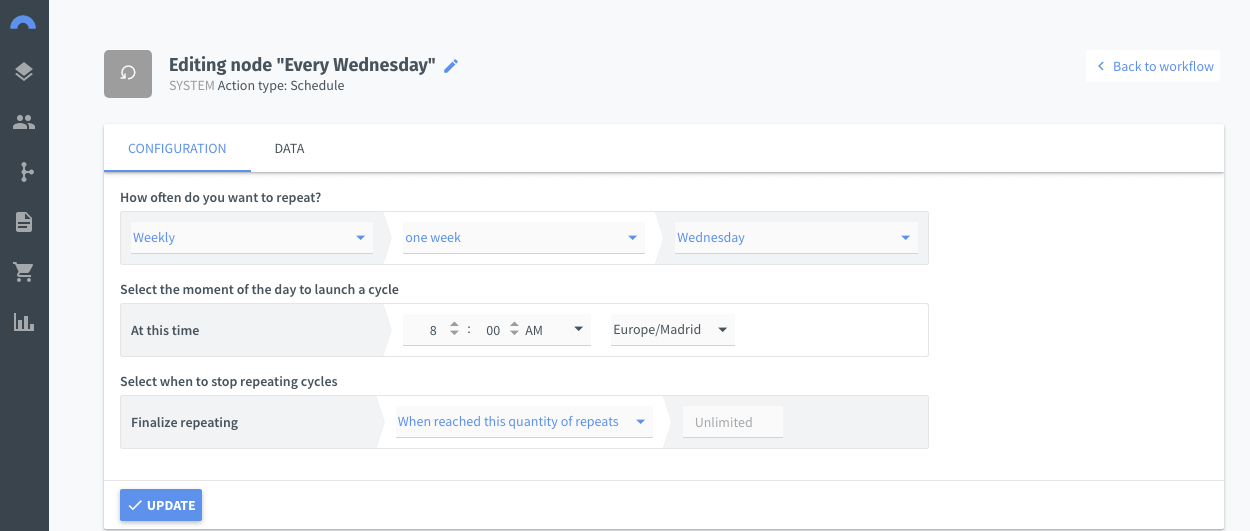 Get recommended products: we'll make a list by selecting "last products visited" by the contact. In case there's not enough to fill the recommendations, we'll add "best sellers". At the last step, we'll indicate that the list will have a total of 12 products.
Send email: it's a newsletter type email, so it must have a template to introduce the data from products. In the model that comes with the workflow, that template is already created and you can customize it to your taste. More info on the email editor here.
NOTE: you can change the frequency of the emails to be monthly or biweekly. You can also create lists of products to show in the emails. These combinations are possible by adding "get products" to the chain and adding more product templates to the email. That way, there can be as many spaces as lists. Don't hesitate and experiment all you want!
Final workflow experience
Once the workflow starts, an email will be sent every week with the latest products visited by a contact, and, in case there are not enough, the site's best sellers. This email will reach only the contacts that are already subscribed to the newsletter. From now on, customize your campaigns as much as you want!