Connectif Onboarding is a tour of the platform's different elements and features, which you can access from the left-hand menu. Following the suggested order will make it easier for you to learn how to manage Connectif while generating your own strategy as you practice.
Dashboard
This is the screen you'll see every time you sign in. It shows a real-time view of platform performance and how your workflows are influencing revenue.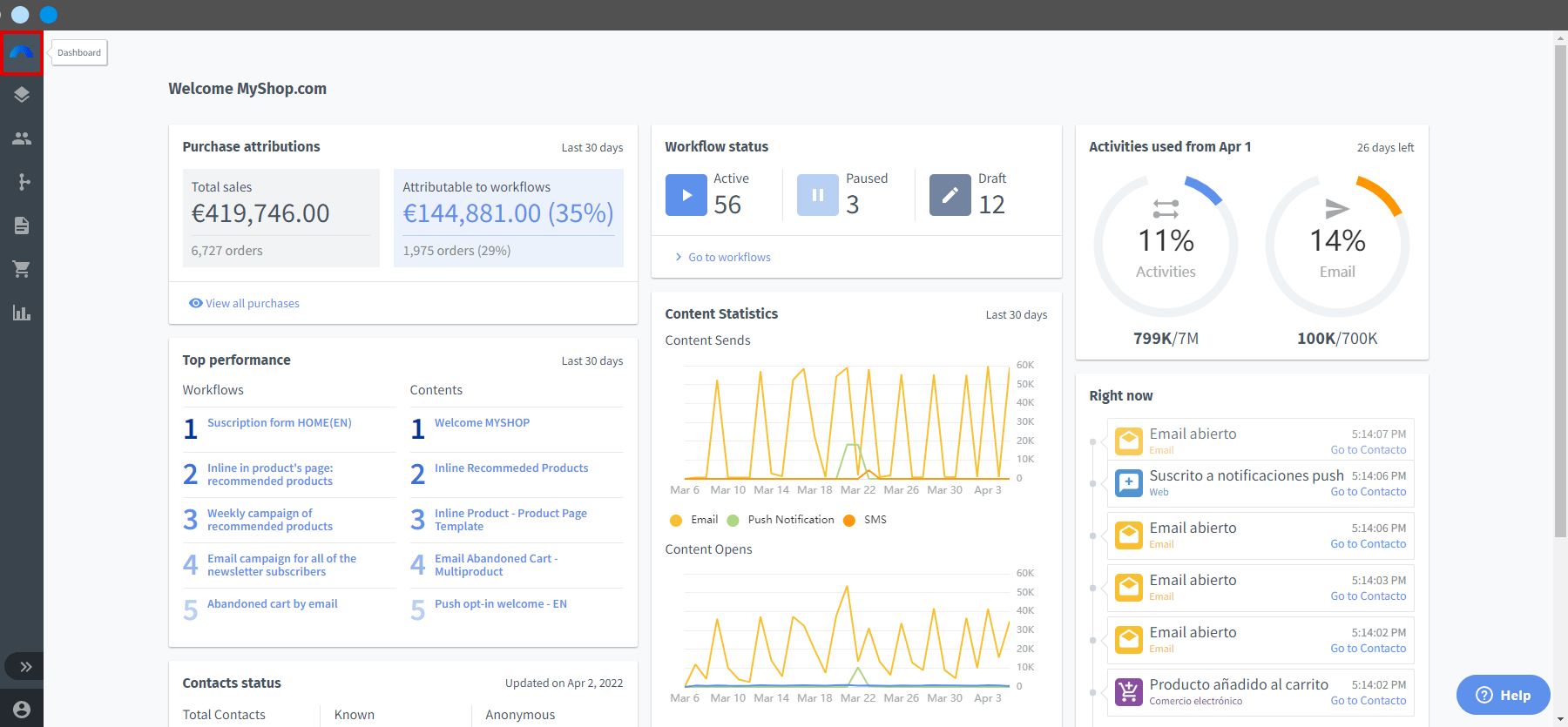 Integrations
The integration with your ecommerce allows Connectif to collect interaction data from your contacts as well as information about your catalog and purchases, which you can then use to create customized strategies.
If your ecommerce site uses one of the main CMS, you can perform the integration in just a few minutes using our modules.
If your website is built from scratch, you can carry out a DIY integration.
And if you need to send and receive data that is not collected or shared by default in the integration, you can use a custom integration.
Once the web is integrated, other aspects of the system must also be configured to make correct use of the platform's features.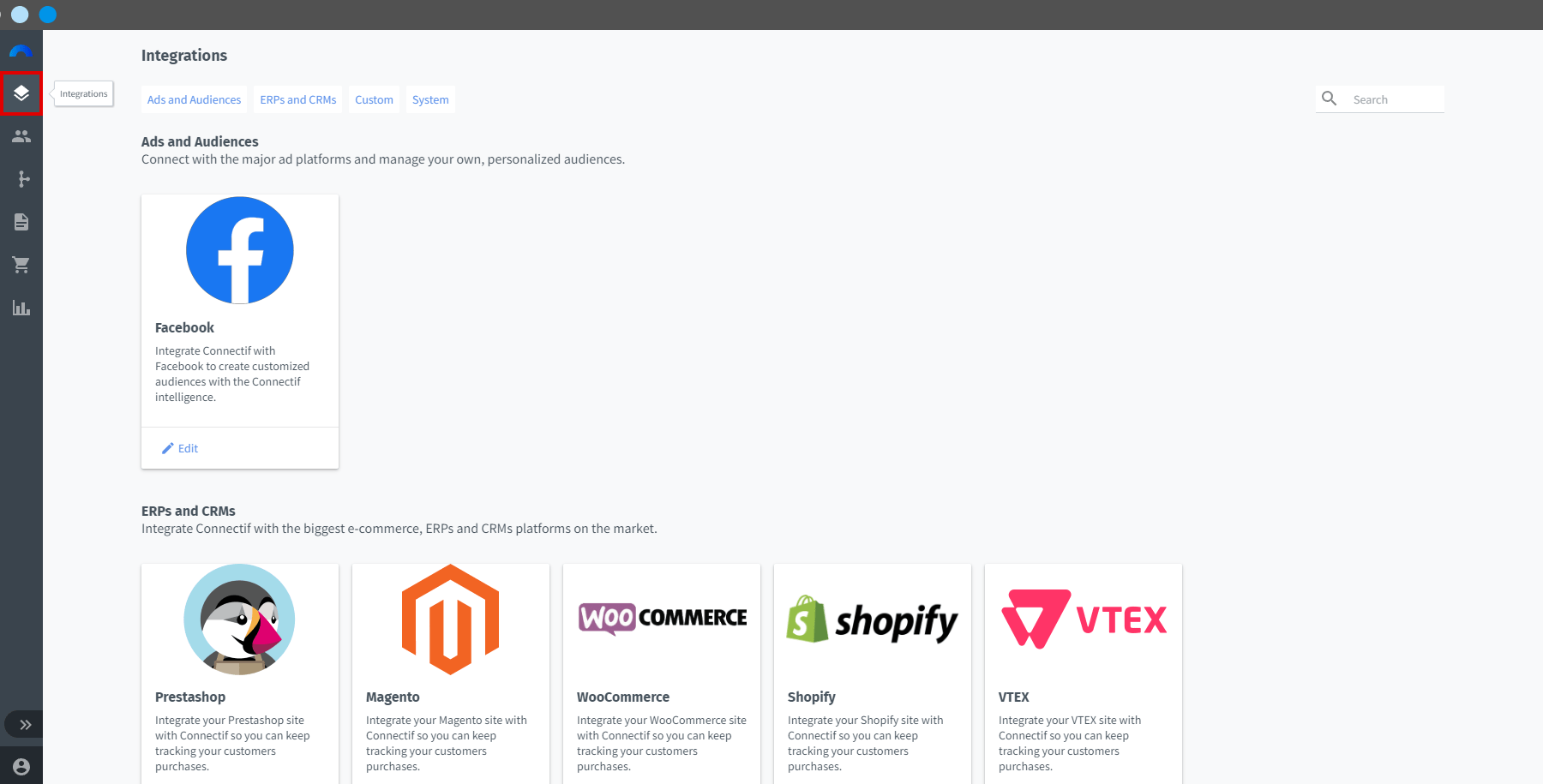 Contacts
Knowing your audience is the key to properly targeting it, so it's important to know what information Connectif receives and how to leverage it to generate valuable interactions.
Use segments to carry out personalized strategies aimed at specific target audiences, or to quickly delete contacts.
Finally, you can also use the import and export features to manage your contacts in an agile, convenient way.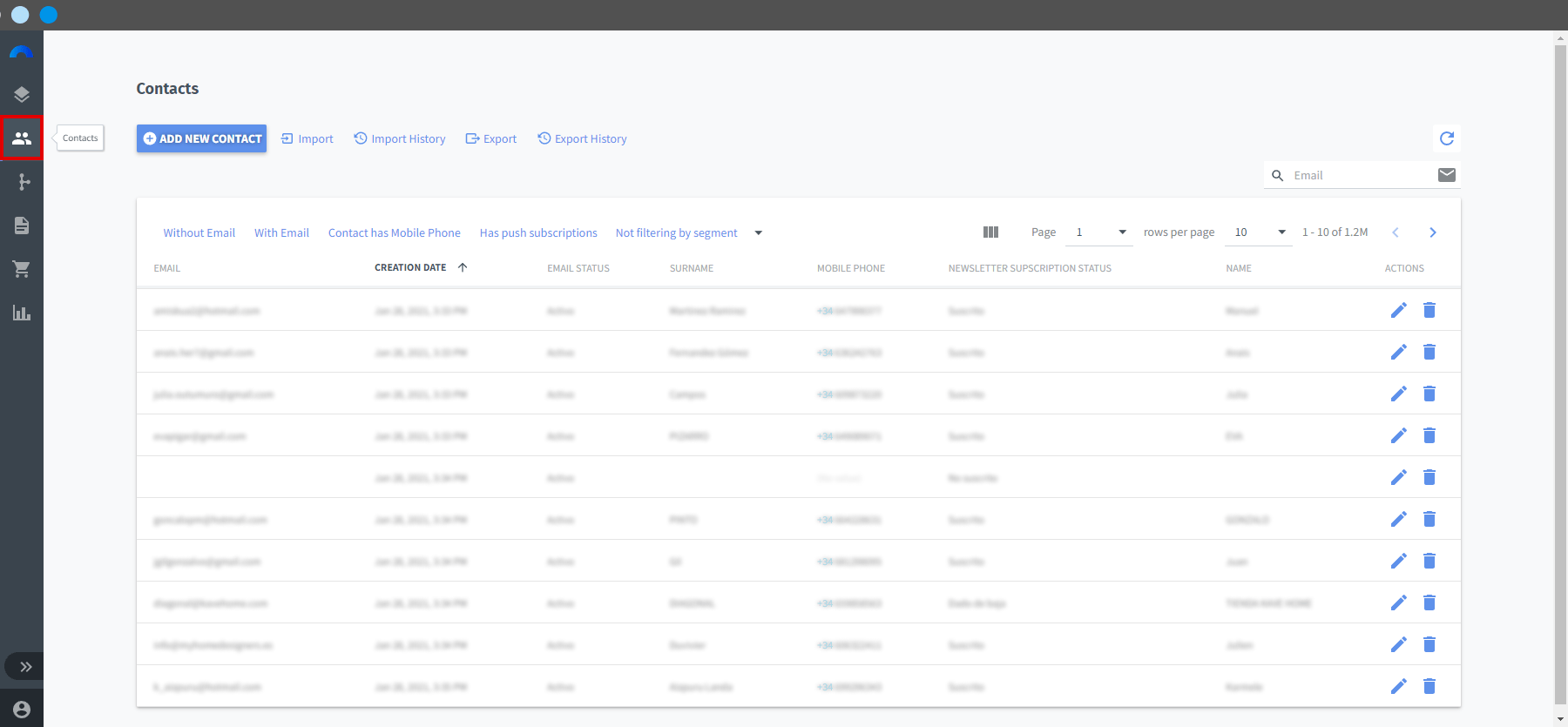 Workflows
In Connectif, strategies are designed via workflows using a builder that allows total creative freedom.
Workflows are built from nodes and the connections between them, which establish the target audience, the data to be collected, the conditions in which to respond and the actions that are carried out. Using workflows will enable you to respond to contacts' activity on your website in a personalized way and to share valuable content with them.
Connectif has a series of pre-built and pre-configured workflow templates that will be very useful as you get started.
You can also use a series of features to organize your workflows and streamline their configuration.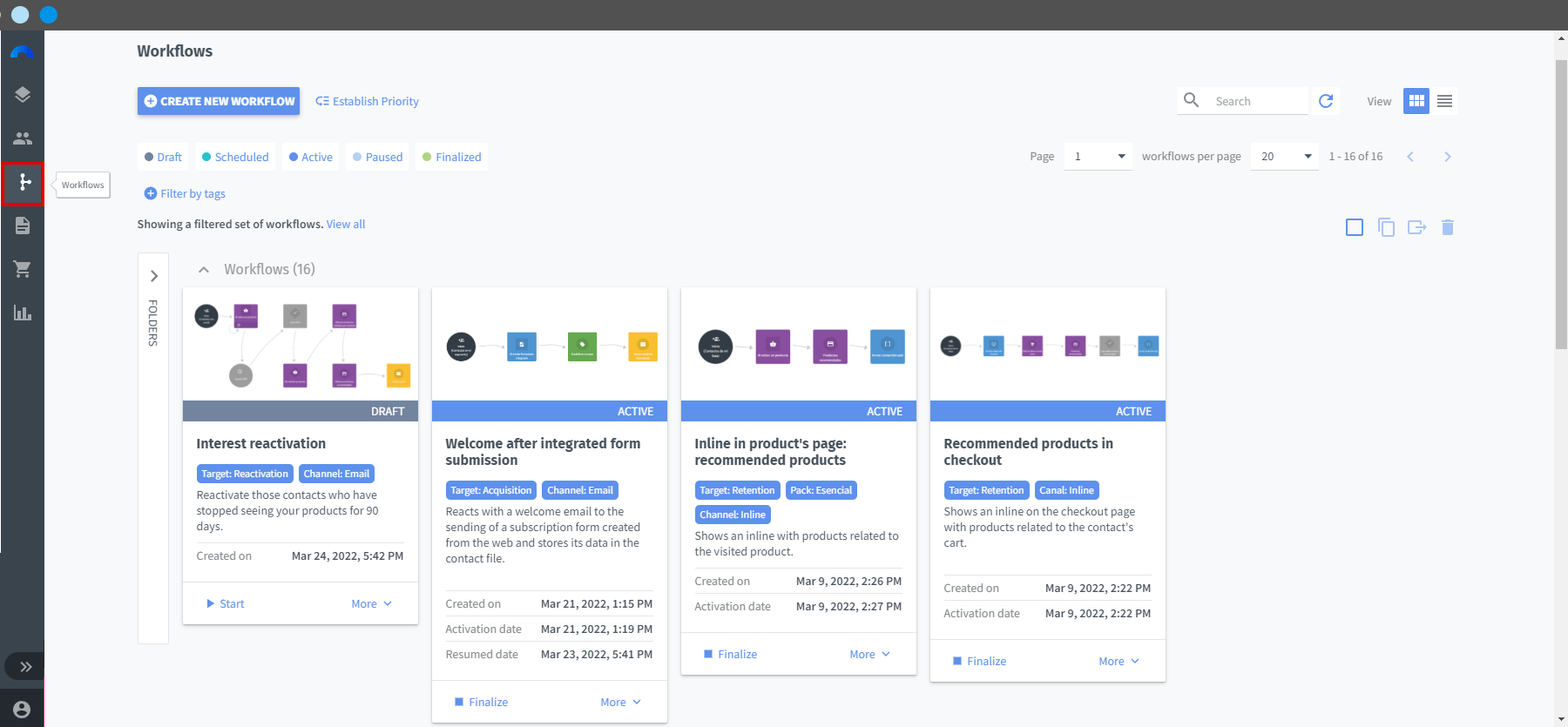 Content
Content refers to all the elements shown to your contacts: popups, emails, floating bars, product carousels, forms, etc.
You design the different types of content using editors, which all have a similar structure to make them intuitive to work with.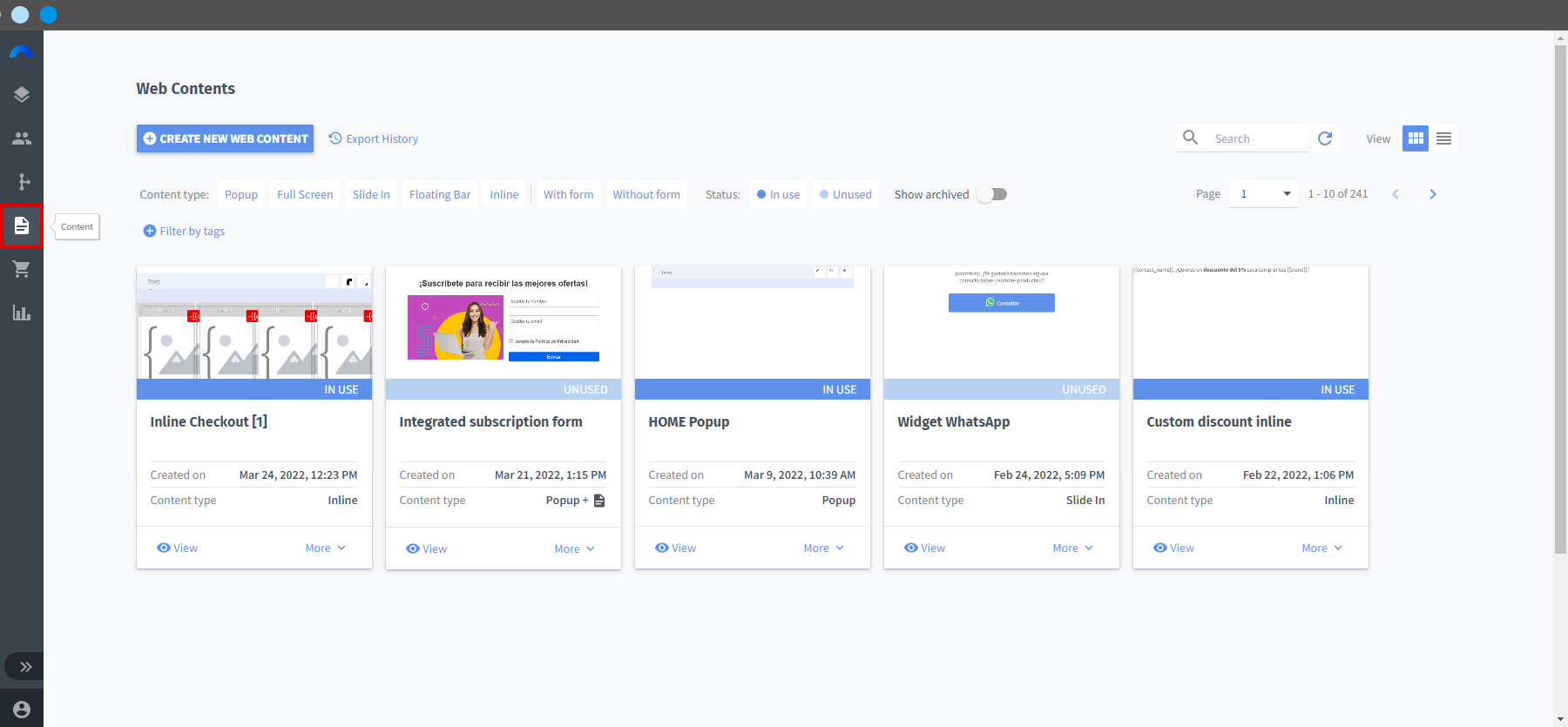 Ecommerce
In the Ecommerce section, you'll find details of your catalog and the purchases that are being registered on the platform. You can also check the product information that Connectif is using in recommendations to contacts and to segment products.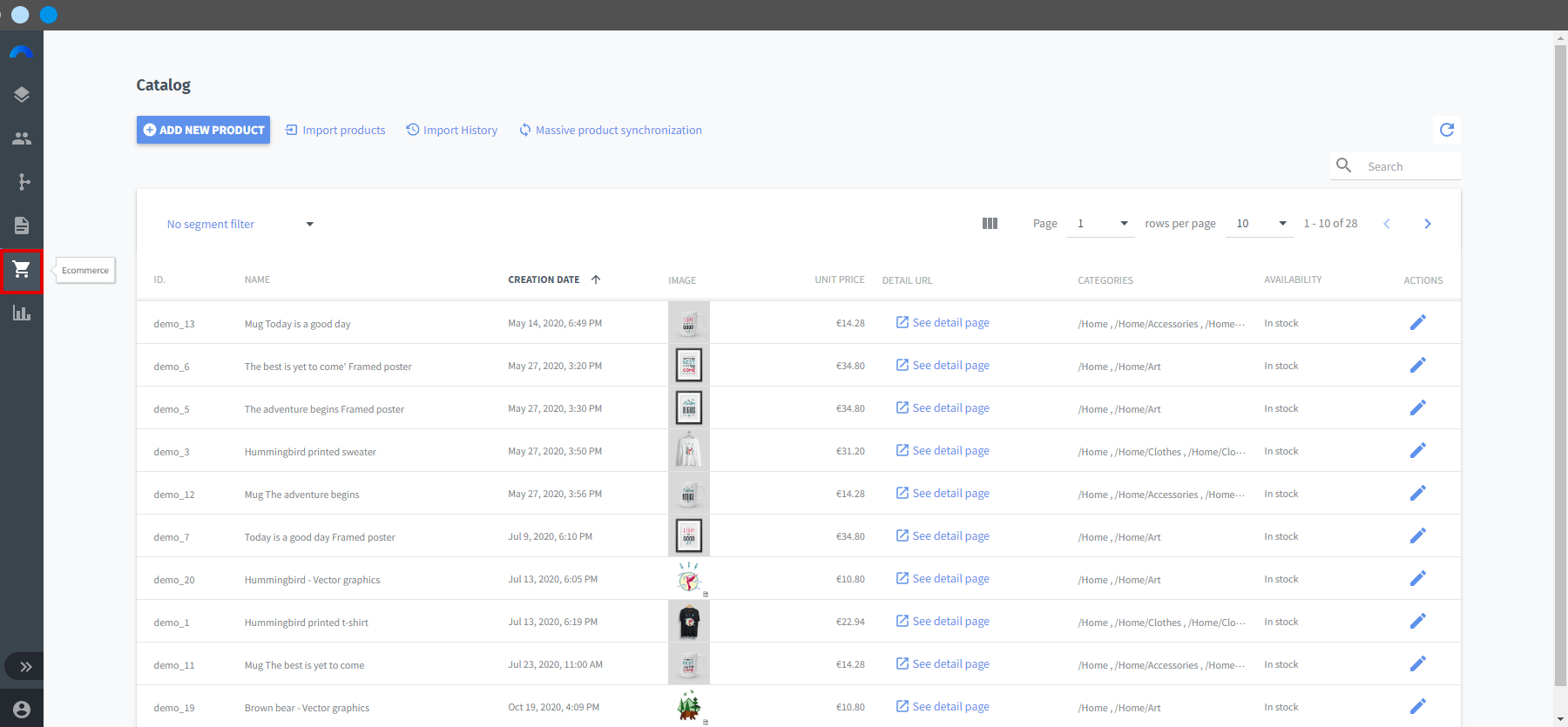 Analytics
Insights provides you with details of your ecommerce activity in relation to Connectif, both for sales and emails. You can filter by time periods or by workflows to see statistics for a specific strategy, a campaign made up of several workflows, or for the whole website.