This guide has all the information you need to manage your Connectif account, from integrating and configuring your store to the different elements and features that make up the platform, plus how to create workflows and ask for help from our support team when you need it.
How to get started with Connectif
1. Integrating your store
Integrating your account with Connectif is the first step to collecting data on contact interactions, purchases and your catalog, to use in your marketing strategies.
There are several ways to integrate Connectif with your store depending on the technology you use:


1.1. Integration via modules
The easiest way to synchronize your ecommerce with Connectif is via one of the existing modules, currently available for the following platforms: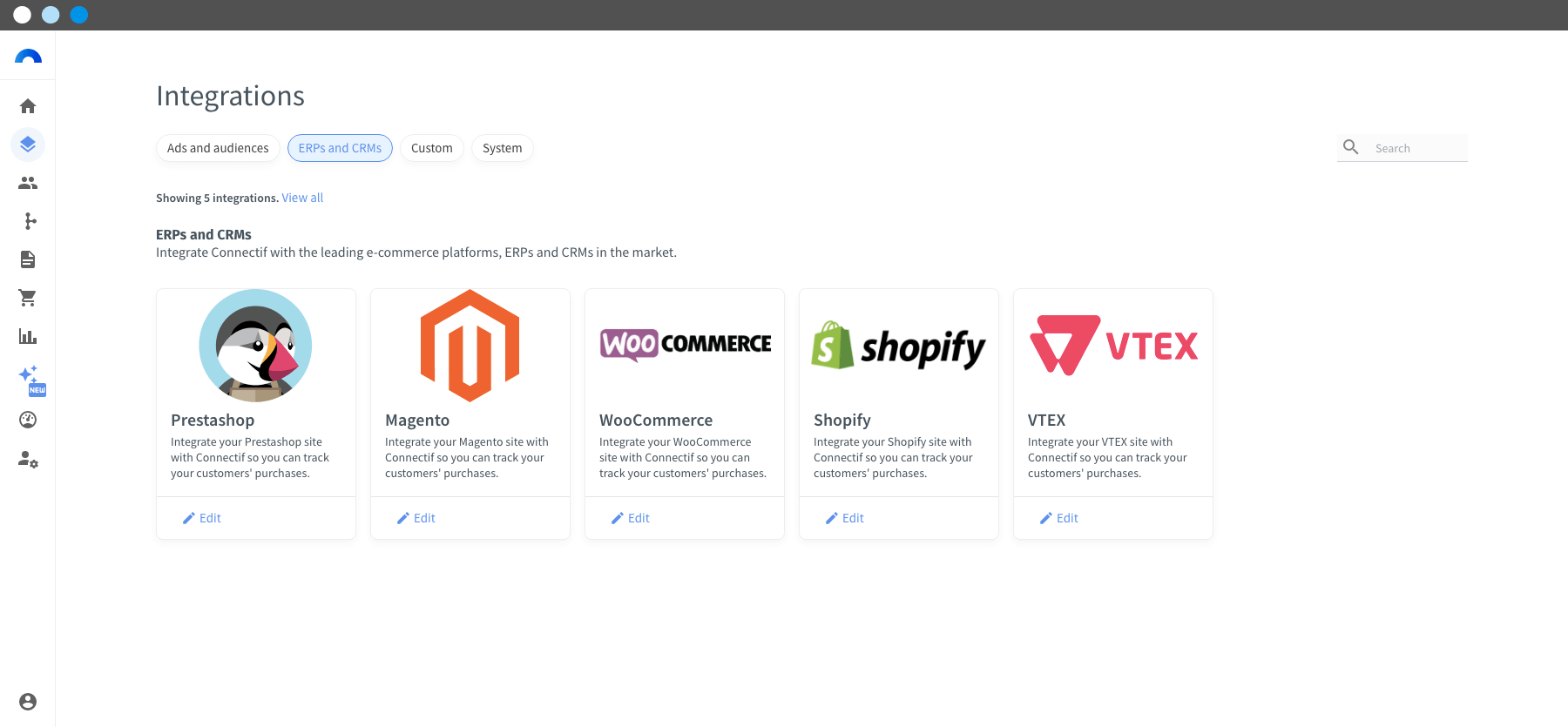 1.2. Custom integration
If your online store does not use any of the above CMS, you'll need to implement a custom integration via tags, JavaScript events or the Connectif API:
1.3. Verifying the integration
Before going into production it is important to check that all events are being sent correctly. To perform a synchronization check, you'll need to simulate a contact's interaction on the website and confirm that all activity is being picked up in Connectif.
2. Configuring the communication channels
Contacts' data will start being collected as soon as the store is integrated but you'll need to configure the different channels before being able to communicate with them.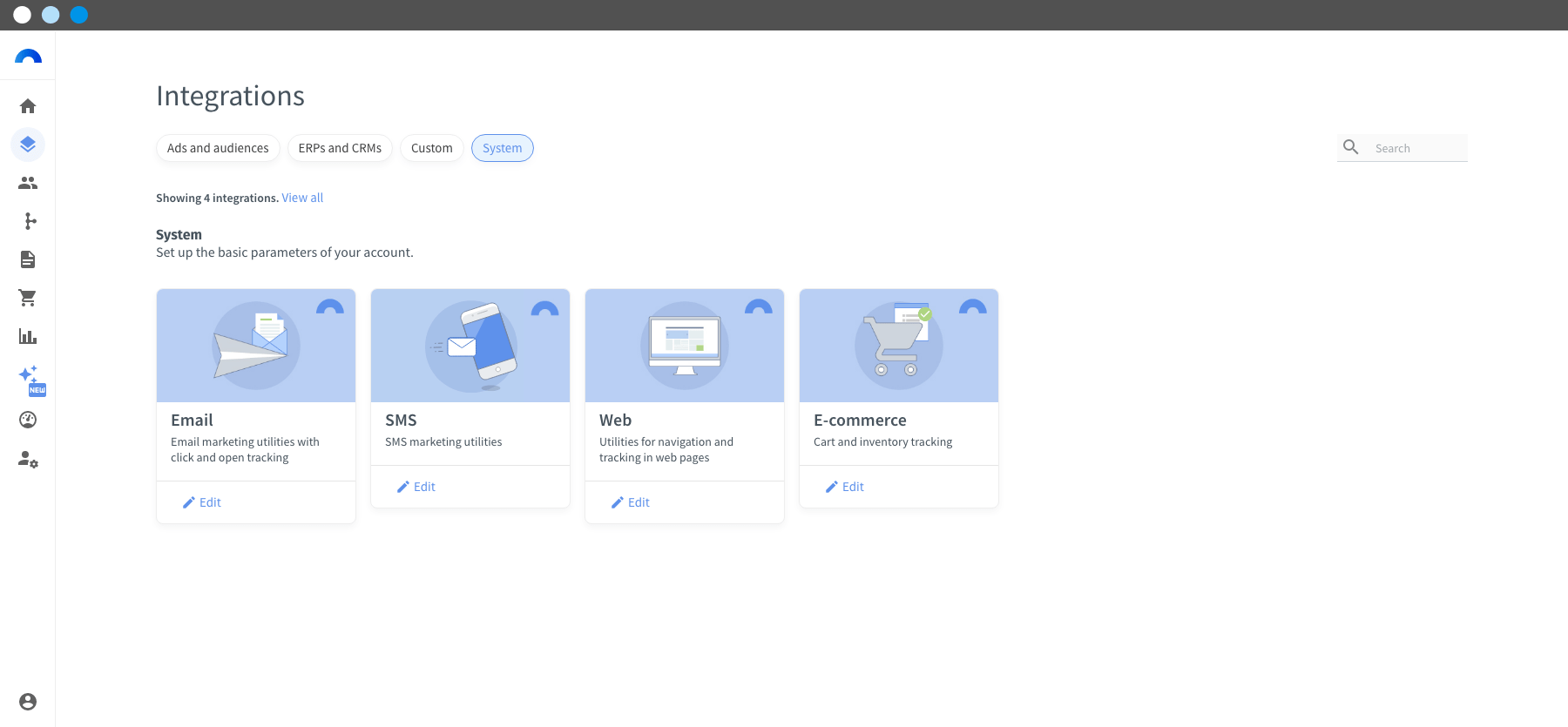 3. Managing contacts and their activity
With your channels set up, you can now import your contacts and organize and target your audiences. Learn about the information Connectif receives, how it stores your contacts' data and activity, and how to leverage all this knowledge to generate interactions.

3.1. C
ontact information
Contact cards are the place to view all the information collected by Connectif about your ecommerce contacts and their digital footprint, and to update them if necessary.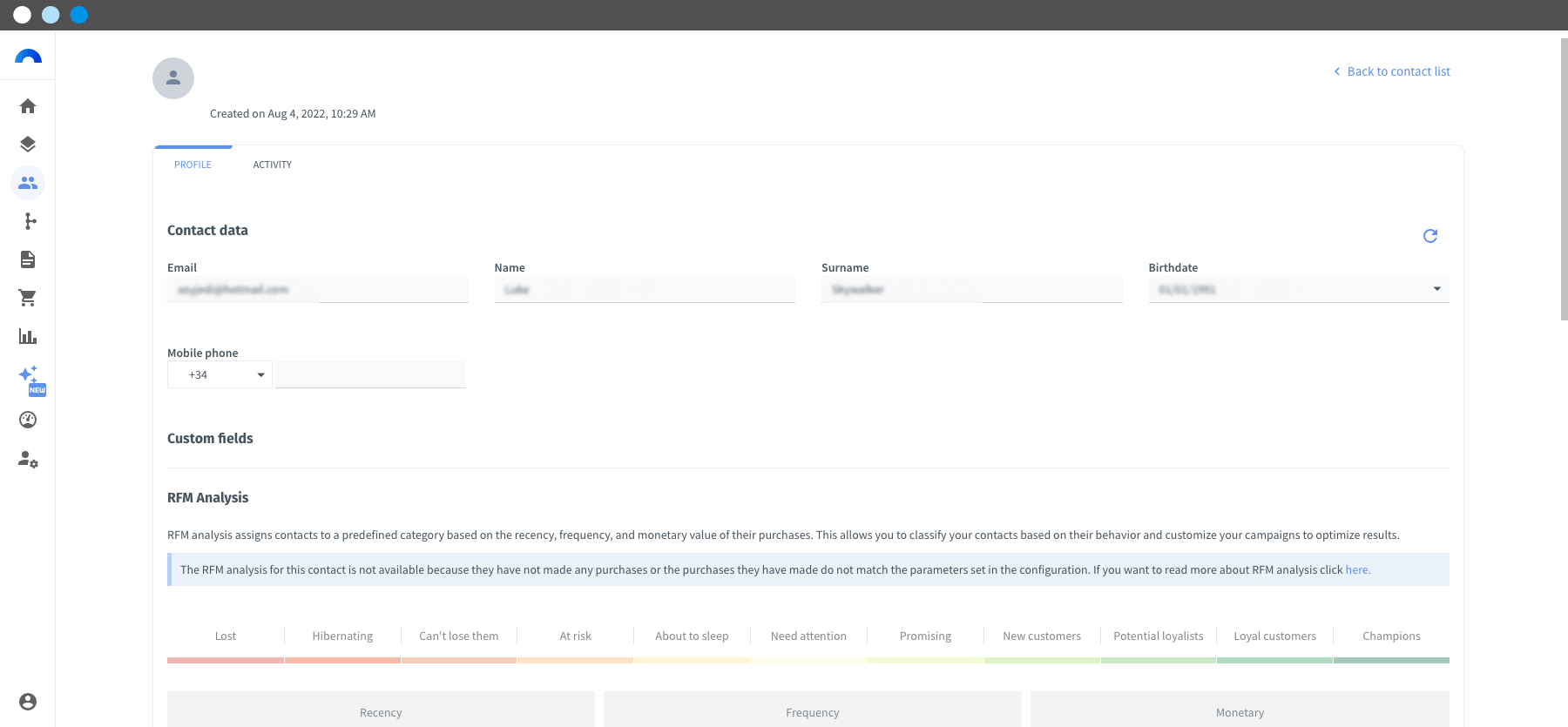 3.2. Import, update and export contact data
Managing, importing and updating contacts to Connectif is crucial to setting up your account. There are different ways to keep your database updated and optimized: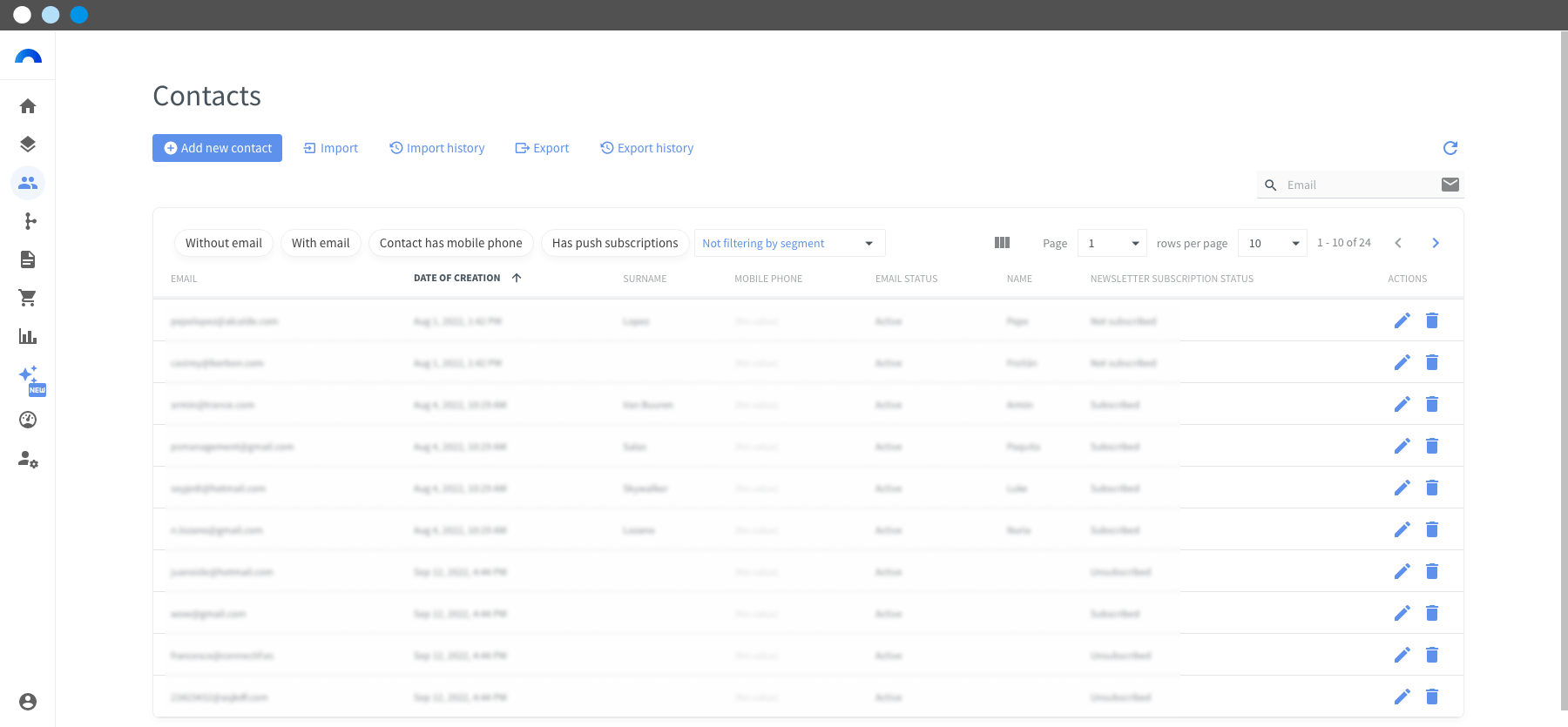 3.3. Segmentation
Contact segments allow you to implement custom strategies aimed at specific audiences and see the performance for each type of audience, as well as carry out other actions such as quickly deleting contacts.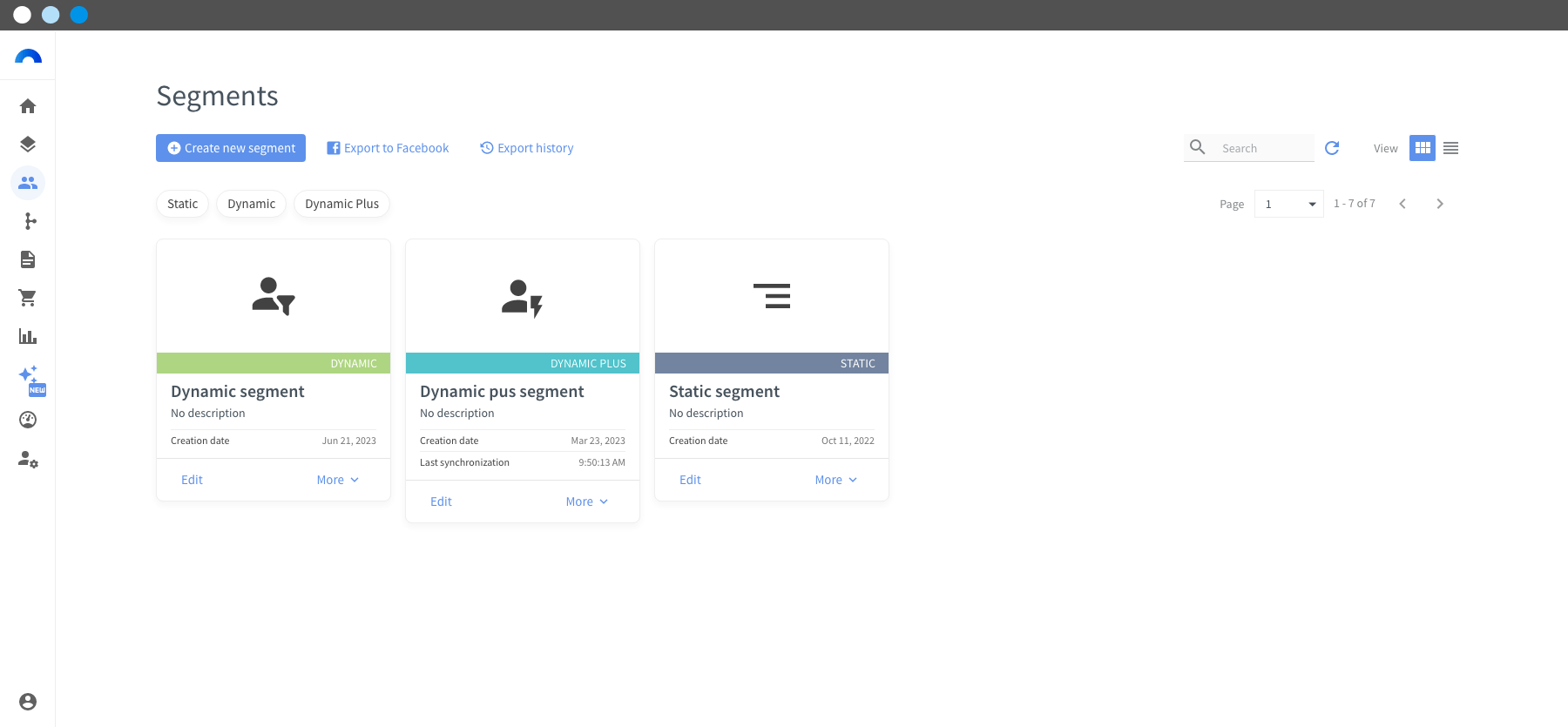 4. Catalog management and ecommerce information
Once your contacts are organized, you'll find details of the catalog and the purchases that are being registered in Connectif in the Ecommerce area. You'll also be able to carry out manual imports of products. See the product information being used in catalog recommendations and targeting.


4.1. Product information
Product sheets are where you can view all the information collected by Connectif about each individual product in your ecommerce.
4.2. Manual import of products
Product import allows you to add items to your catalog manually via the import tool so that they're available immediately for your marketing strategies.
4.3. Product segmentation
By indicating certain conditions and rules to Connectif about your catalog, you'll obtain product segments that will be available in real time for use in different strategies.
5. Connection with other external channels
If you need to receive and send data that is not collected or shared by default in your store integration, as well as connect your contacts with audiences from other platforms, you can do so via custom webhooks and integrations with audience connectors.


5.1.
Predefined webhooks
By integrating your account with the Spoki tool you can create automated WhatsApp campaigns for instant communication with your contacts.
5.2. Custom webhooks
Connectif allows you to receive data from external systems in order to make use of information that is not registered by default in the platform.
5.3. Audience connectors
Connect your Google Ads and Facebook Ads accounts with Connectif so you can automatically sync your audiences and start working with them.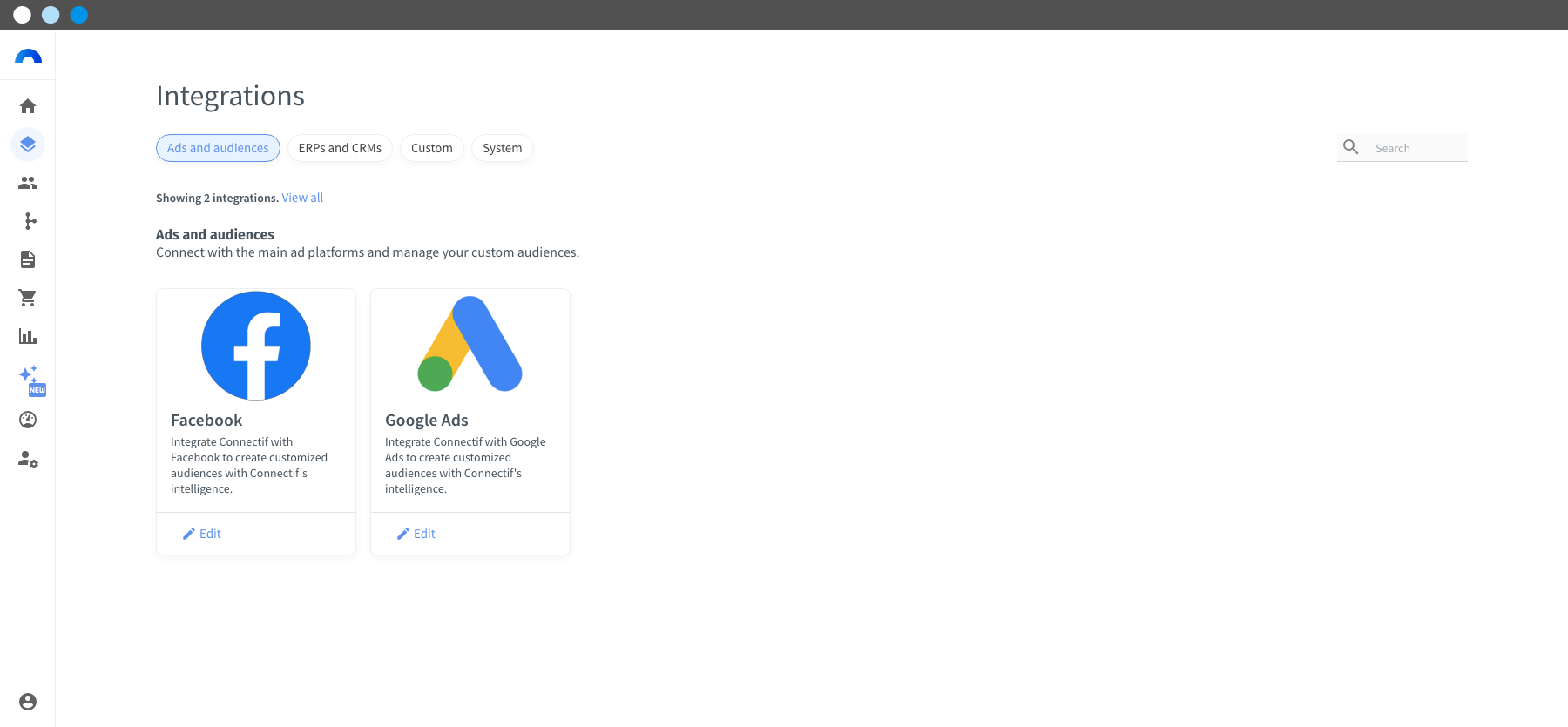 6. Managing content
Now that you have all the information in Connectif, you can start creating content to show to your contacts, in line with your strategies.
You design the different types of content using editors, which all have a similar structure to make them intuitive to work with.


6.1.
Web content
Connectif's Web content allows you to reach ecommerce visitors via different formats that you create in the Web content editor: popup, floating bar, inline, slide-in and full screen. These are integrated into the page with no need to make changes to the structure of the website.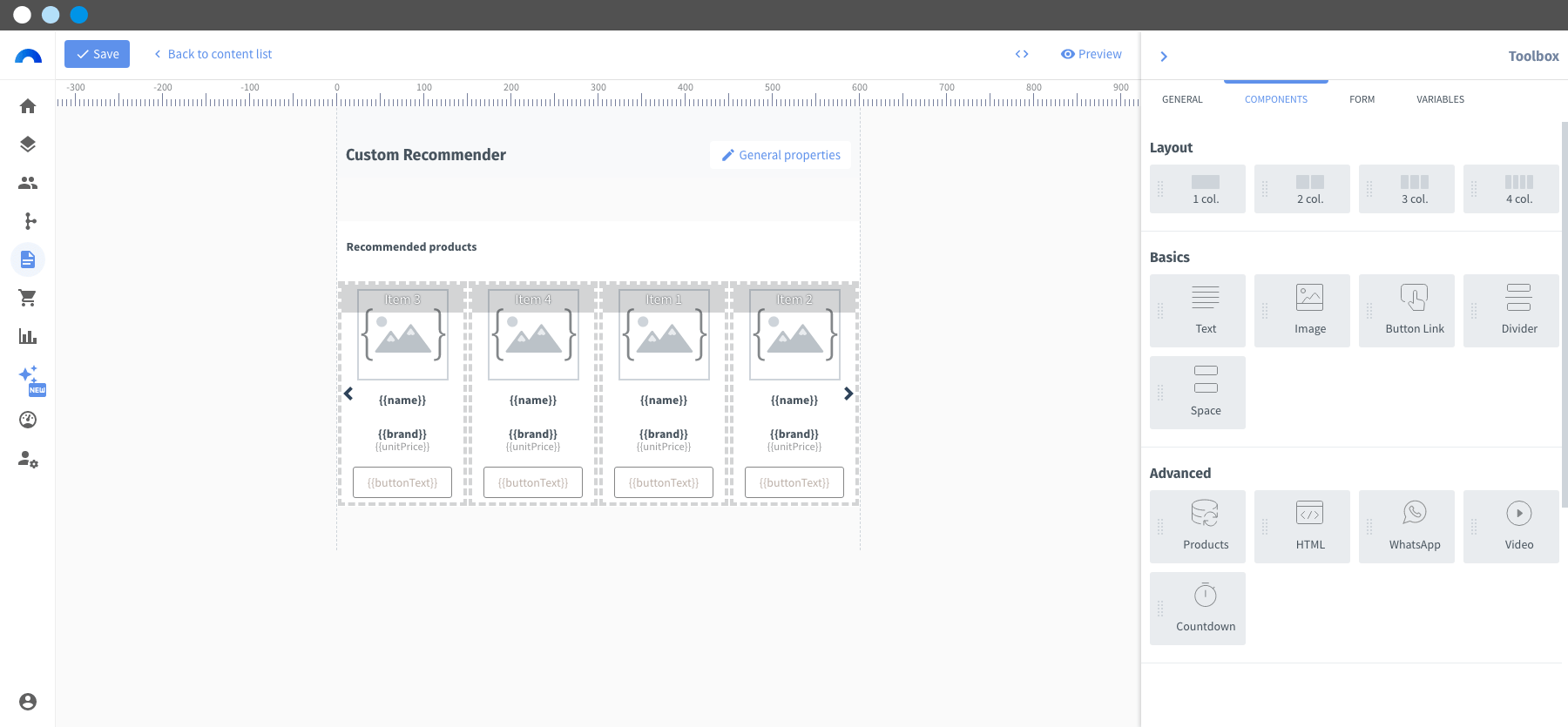 6.2. Email content
The Email editor gives you a responsive and very visual way to design the email content that will be sent to your customers from your account, via workflows created for this purpose.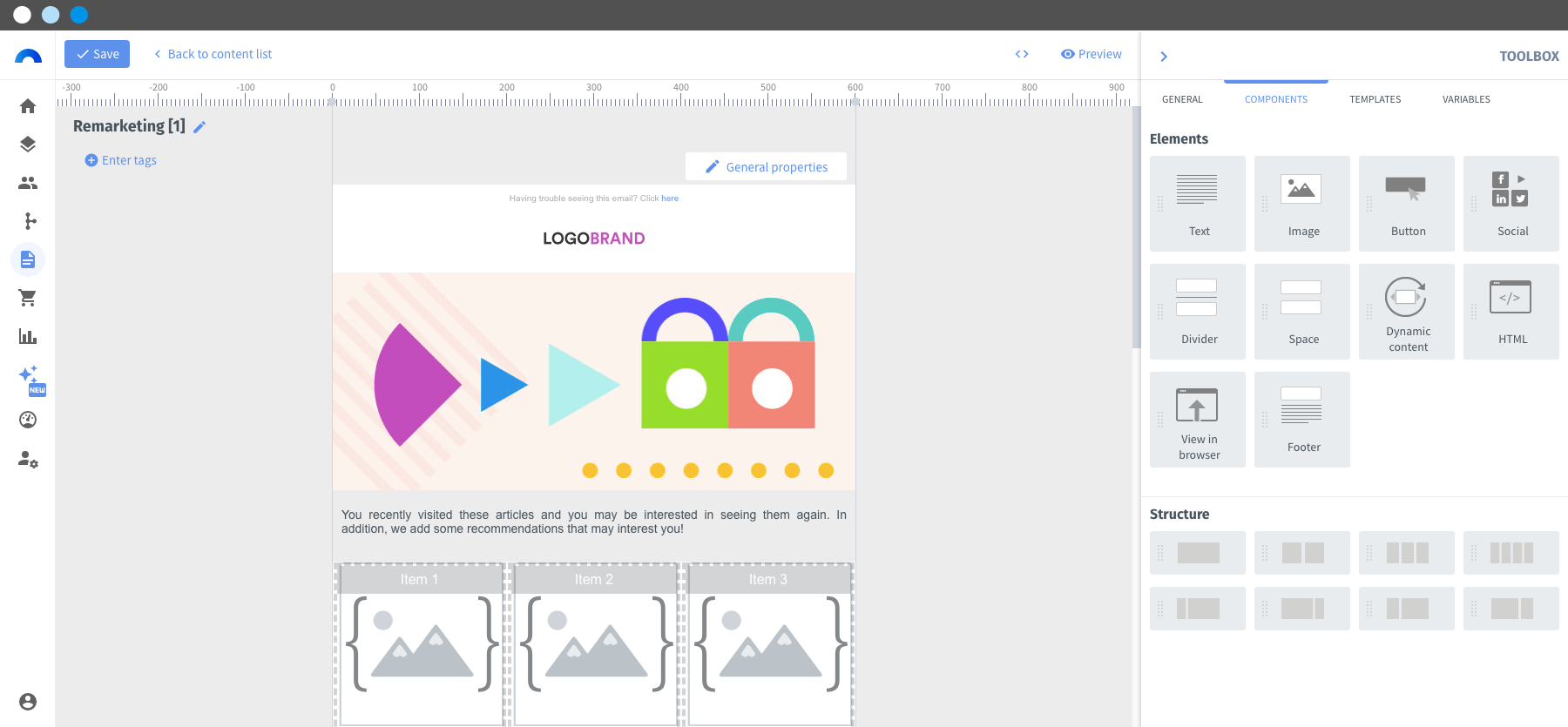 6.3. Push notifications
The Web push notification editor allows you to visually design the content of the web push notifications that will be sent to customers from your account, via workflows created for this purpose.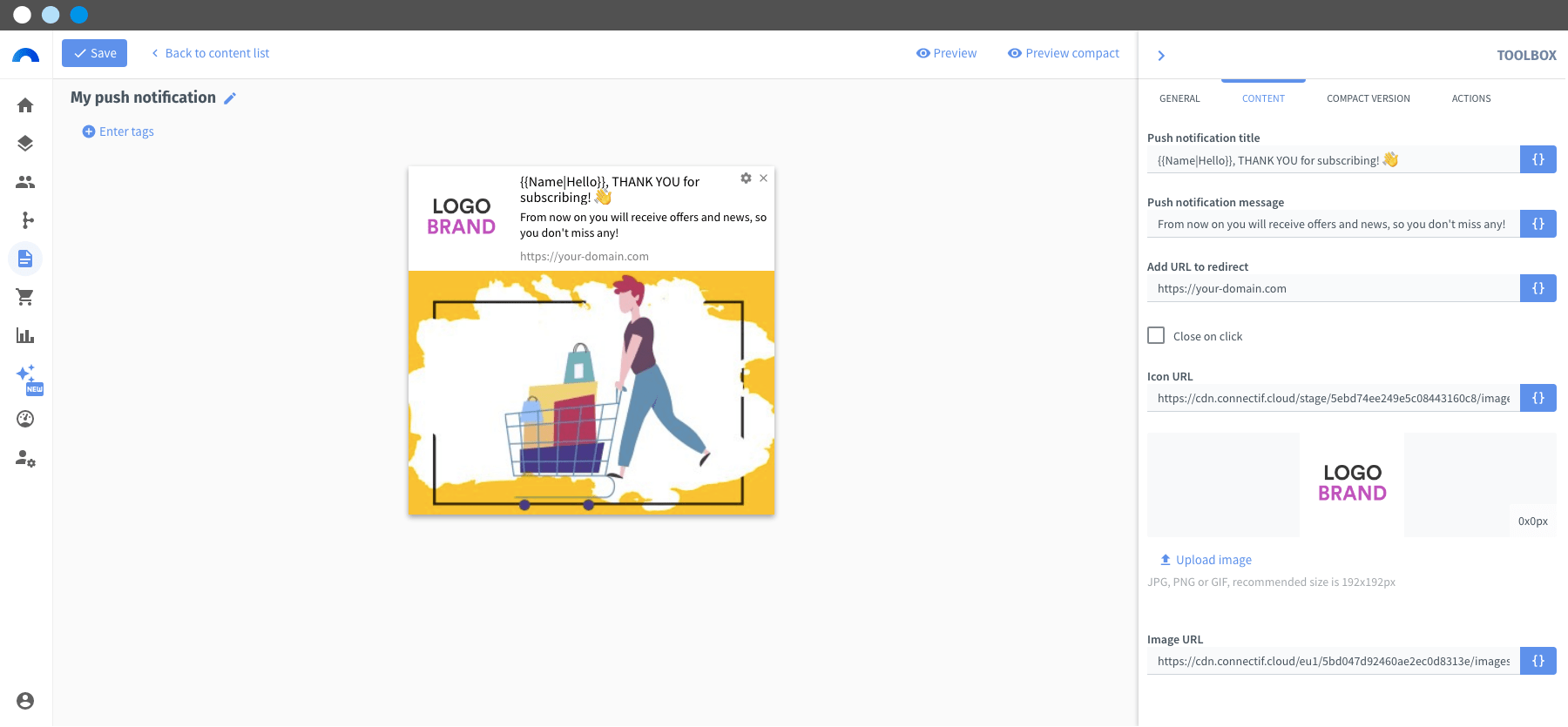 6.4. SMS
The SMS editor allows you to visually design personalized text messages for your contacts. These will be sent from your account via workflows created for this purpose.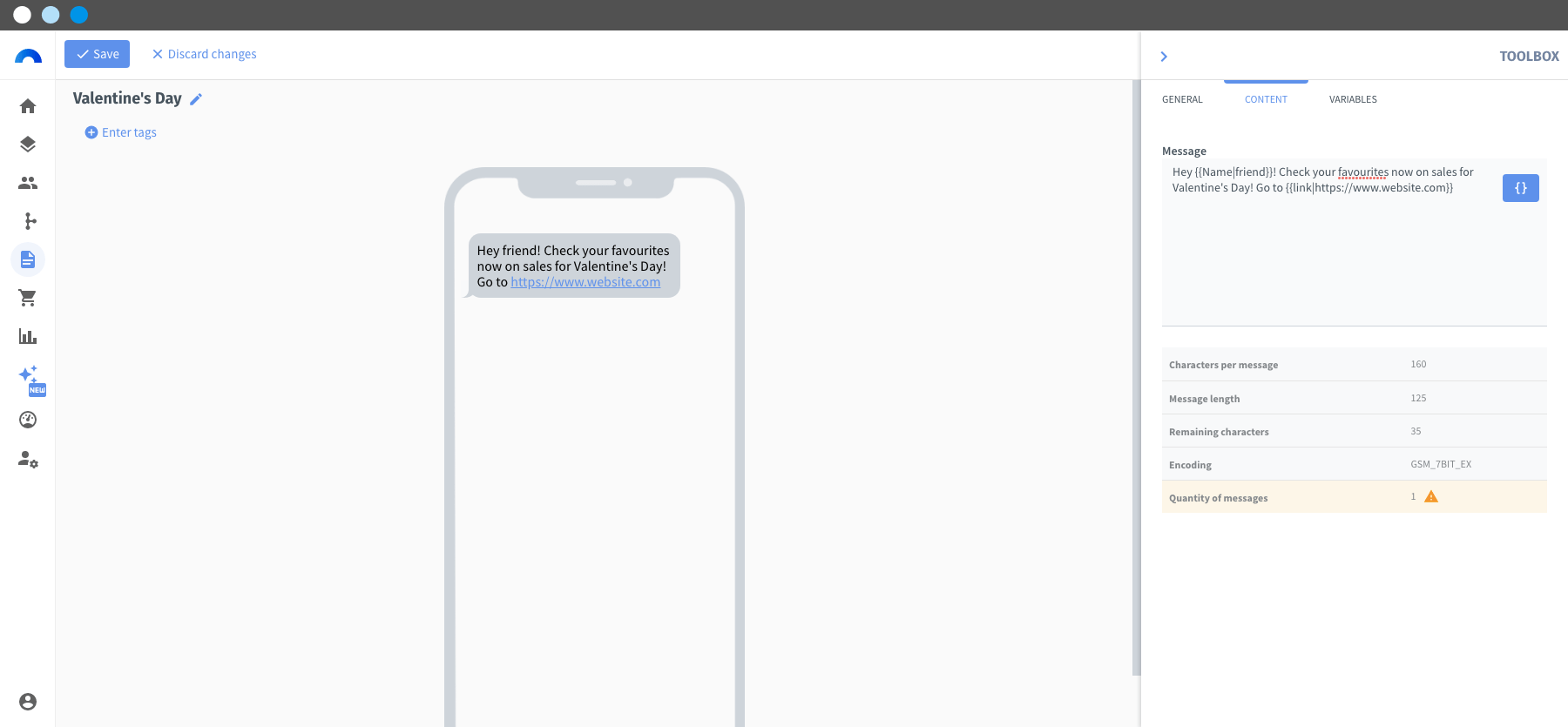 6.5 Manage your forms
Add native Connectif forms to your web content to boost user acquisition.
Or, use the integrated forms for an easy way to send all the data already being collected in your ecommerce to Connectif.
6.6 Use the content creation wizard
Connectif Copilot is an assistant that works with artificial intelligence to help you generate texts for your digital marketing campaigns. With this chat – based on ChatGPT – you can create original content and review, translate and optimize it in an agile way.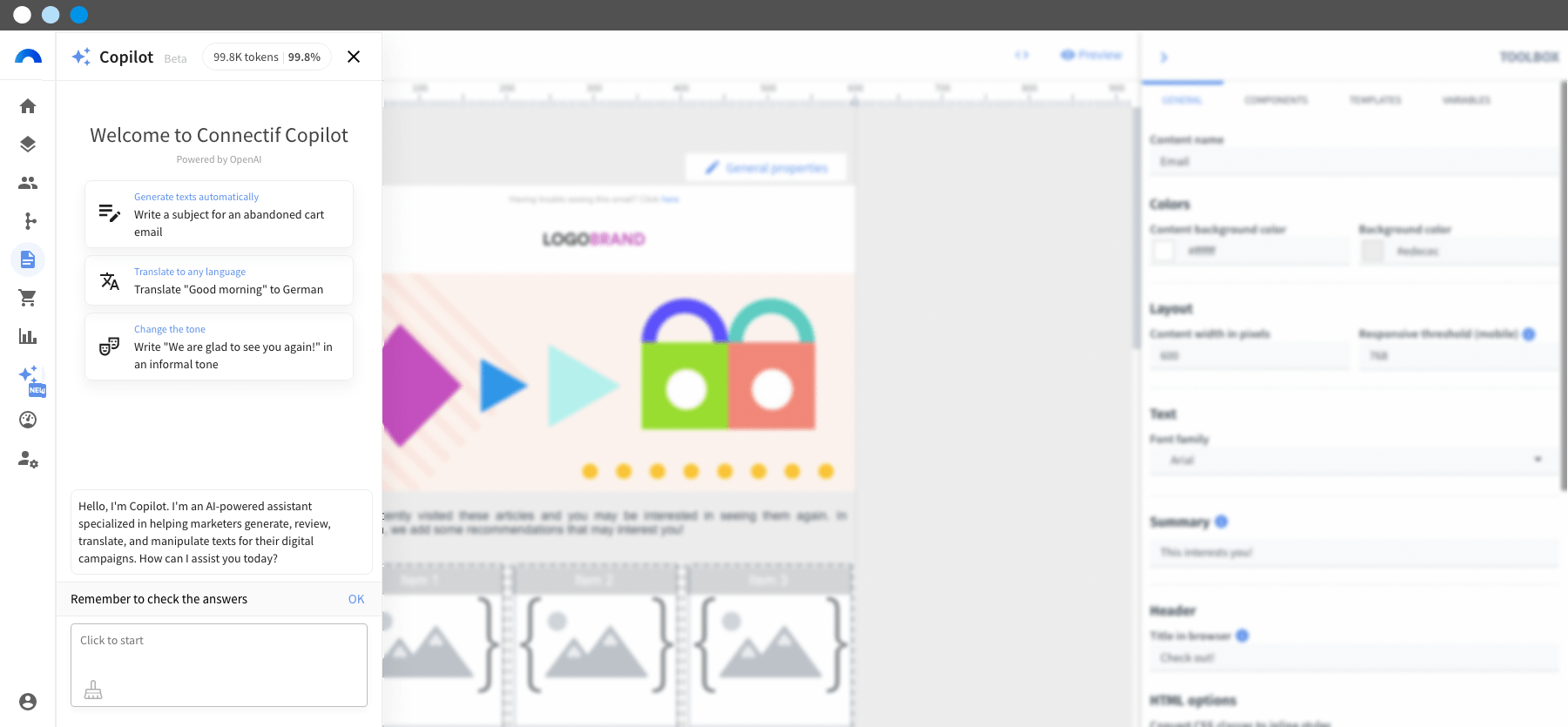 7. Creating strategies using workflows
When you have created your content, you can show it to your contacts and visitors via workflows. Manage all your strategies through the Workflows interface and edit or create new ones using the Workflow editor.
Workflows are composed of nodes, which are configured with the target audience, data to be collected, conditions to which it responds and the actions that are carried out, allowing you to design different paths within the nodes.


7.1. Workflow interface
Workflows is the place where all the flows created in your Connectif account are saved. Via this screen you can access and manage your various strategies as well as create new workflows and start those that are ready.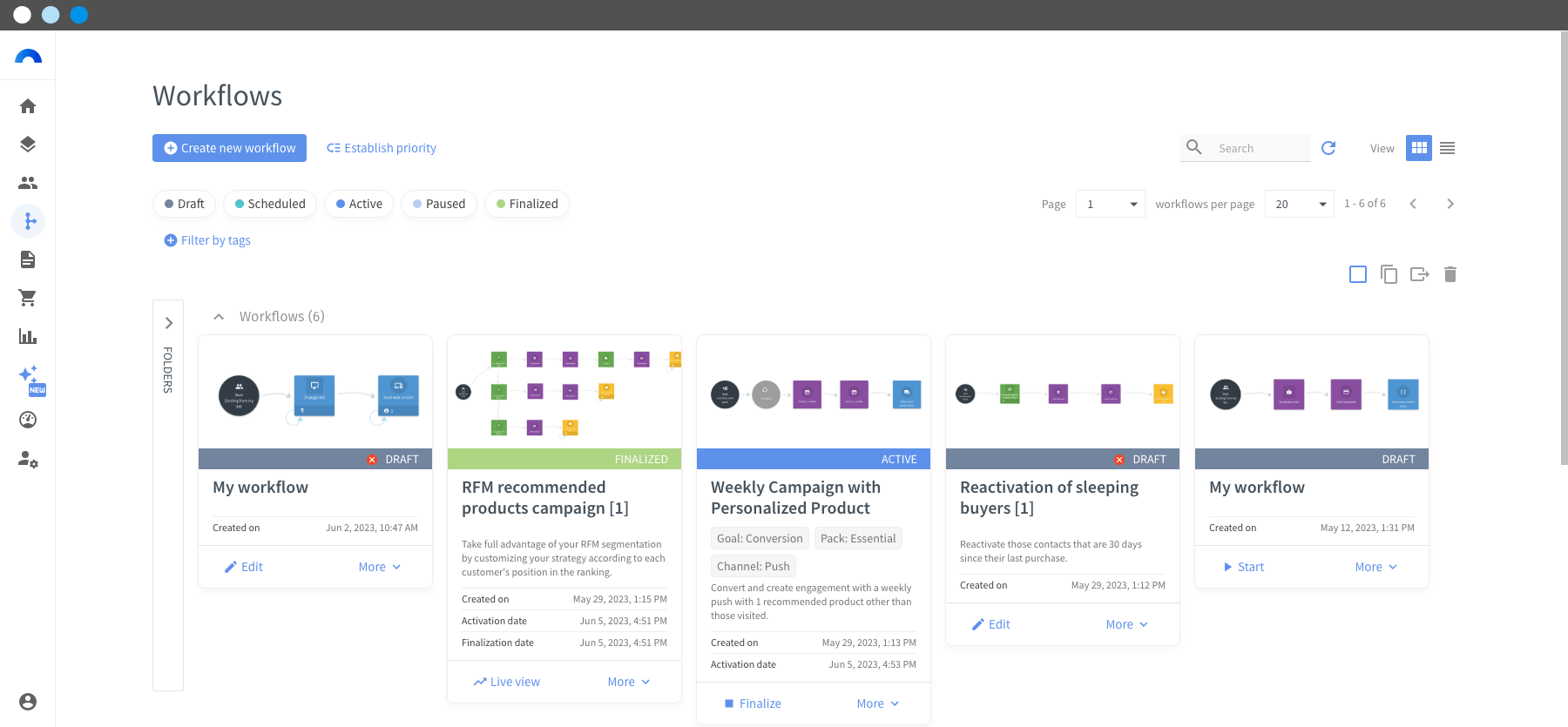 7.2. Workflow editor
The Workflow editor is the feature that allows you to create and edit workflows and set up a range of strategies to optimize your business results.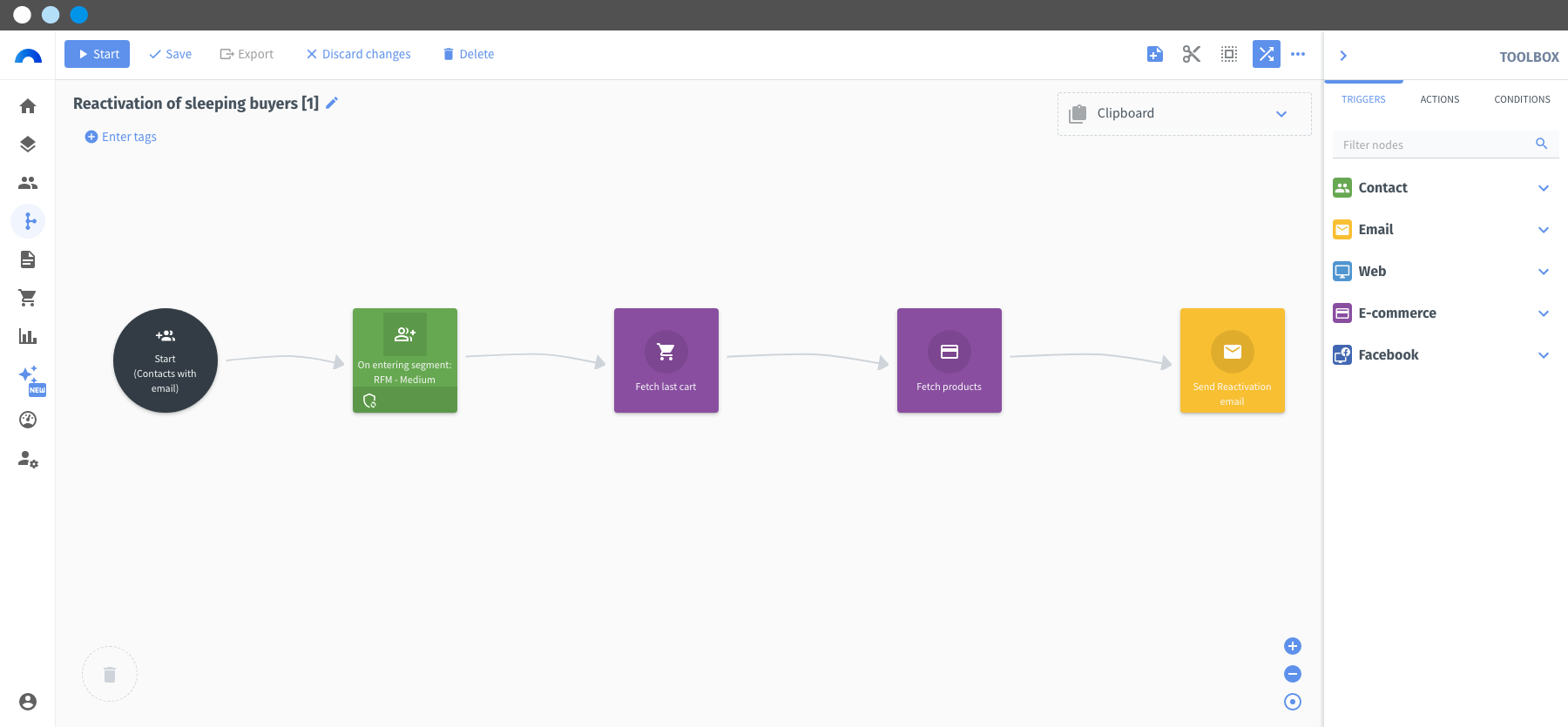 7.3. Connectif nodes
The nodes act as stages on the journey that the contact follows through the workflow. By default, you will always find a single "Start" node in the editor, from which all the strategies start and which establishes the contacts they will target.
In Connectif there are three types of nodes, which add actions, conditions or triggers to the flow and which the contact continues through:
7.4. Your first available workflows and templates
Connectif has a series of workflow templates ready to customize and use:
You can also access use cases from the Workflow template directory in your account.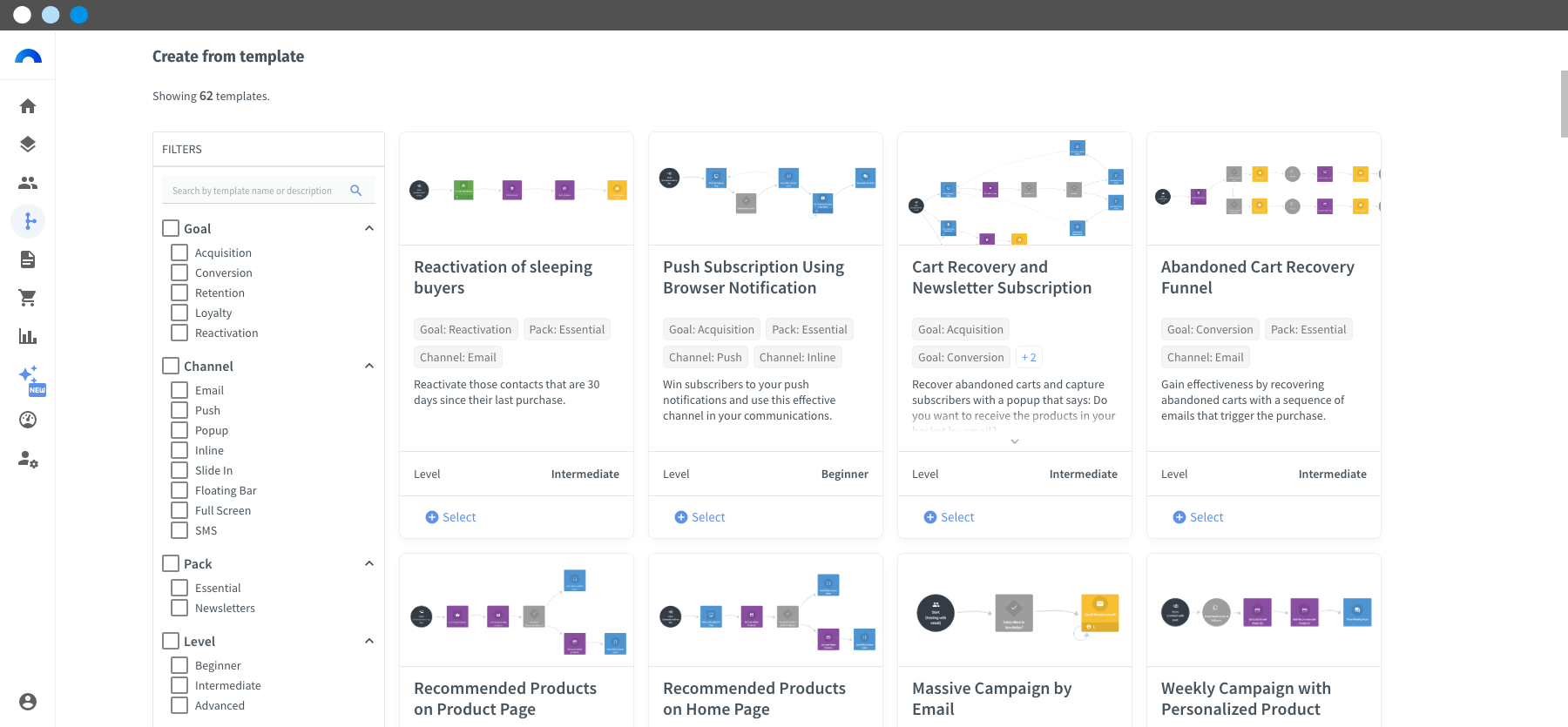 8. Analysis of campaigns and their results
Once your strategies are up and running, you'll be able to view metrics for your strategies, content, channels, and segments across Connectif's different resources.


8.1. Connectif Dashboard
The Connectif Dashboard is the welcome screen where all the activities and operations are brought together. Here you'll find a snapshot of your account's performance in real time.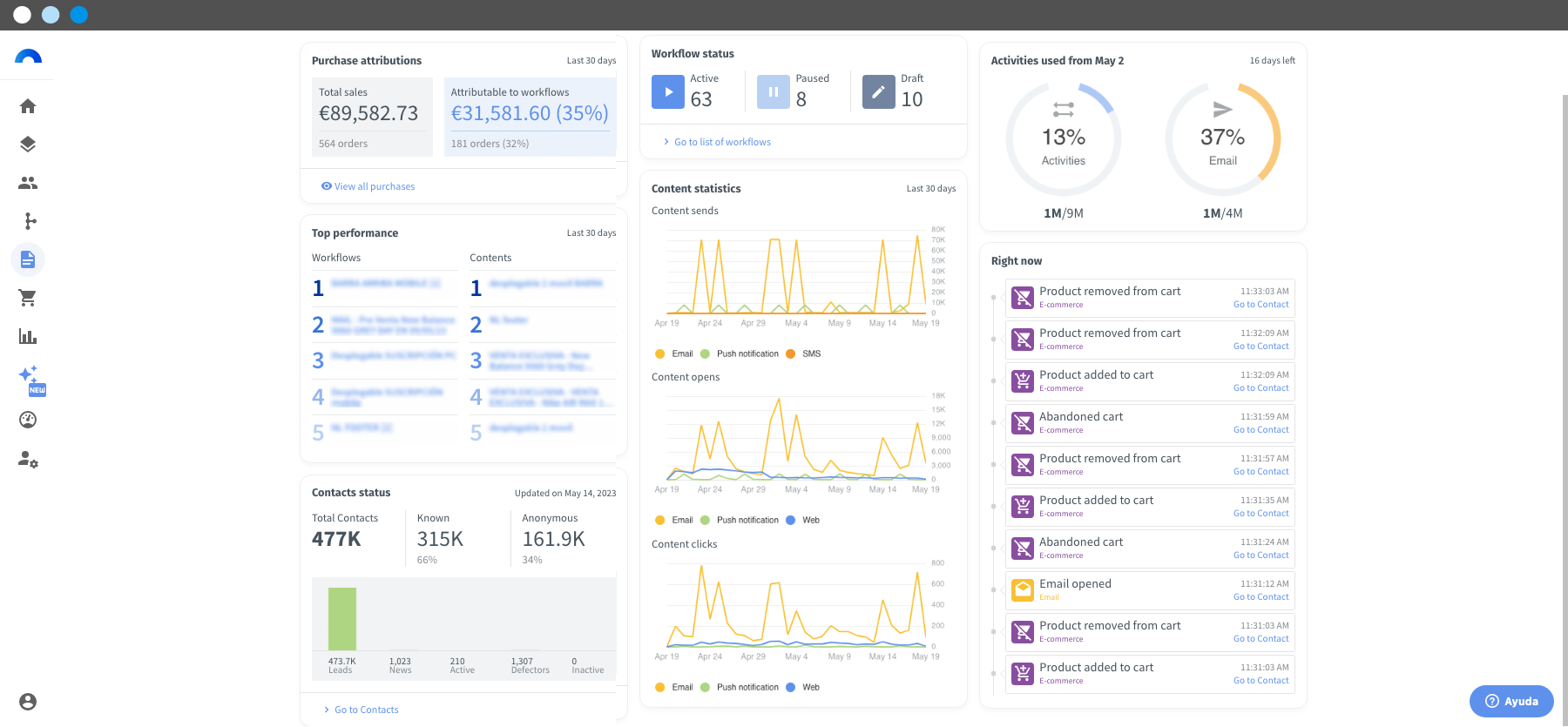 8.2. Analytics Dashboard
Analytics Dashboards is the core feature of the Analytics section. In it you'll find a summary of your account's most relevant statistics, as well as different options for data filters that will allow you to easily obtain a detailed vision with which to optimize your marketing strategies.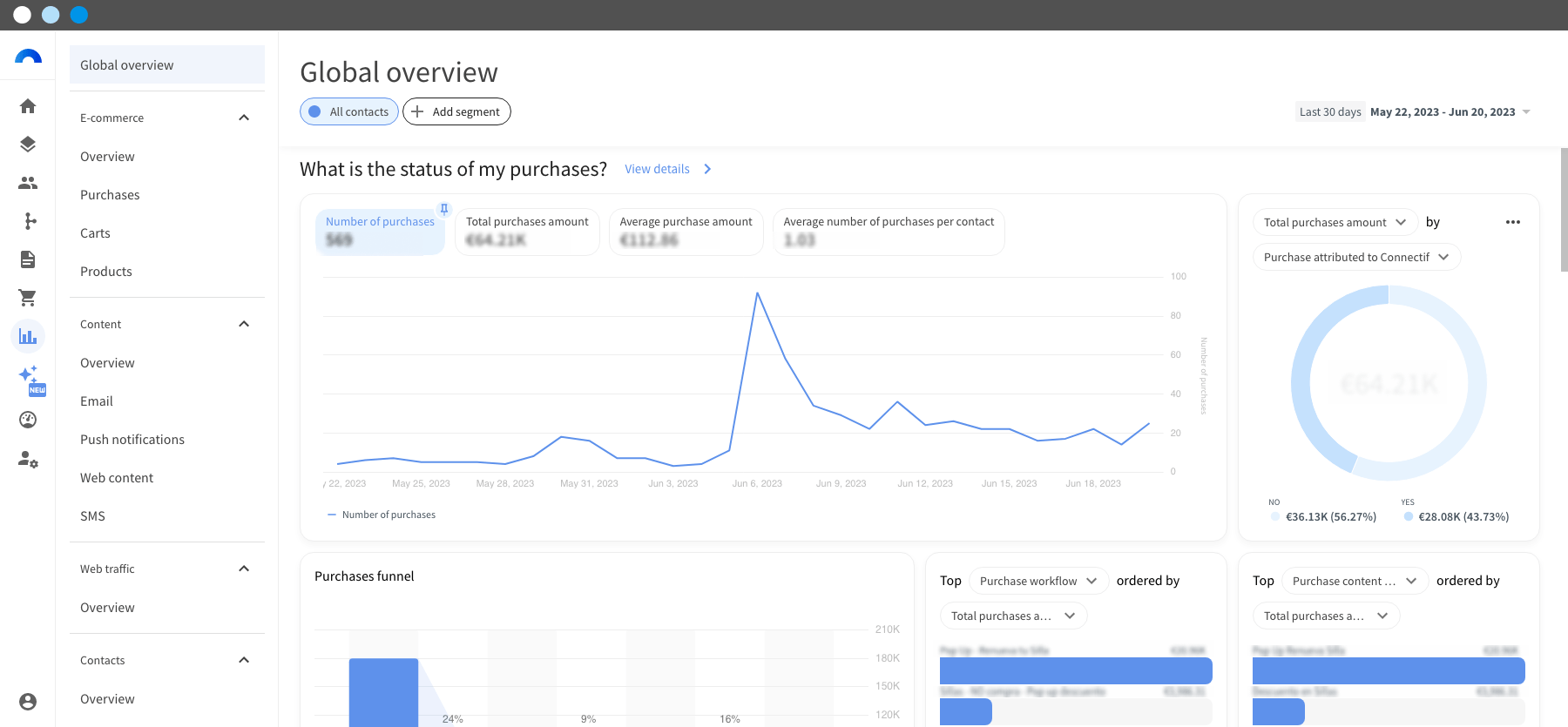 8.3. Data Explorer
The Data Explorer feature allows you to use all the data collected by Connectif to create detailed reports with which you can analyze sales, measure the results of your campaigns and search for trends in a simple and powerful way. These reports will help you make data-driven decisions to optimize your account and achieve your goals.
9. Our Support team is here to help
Connectif has a strong Support team who can solve your queries about the platform quickly and efficiently. Get in touch with any questions you may have about using the platform.